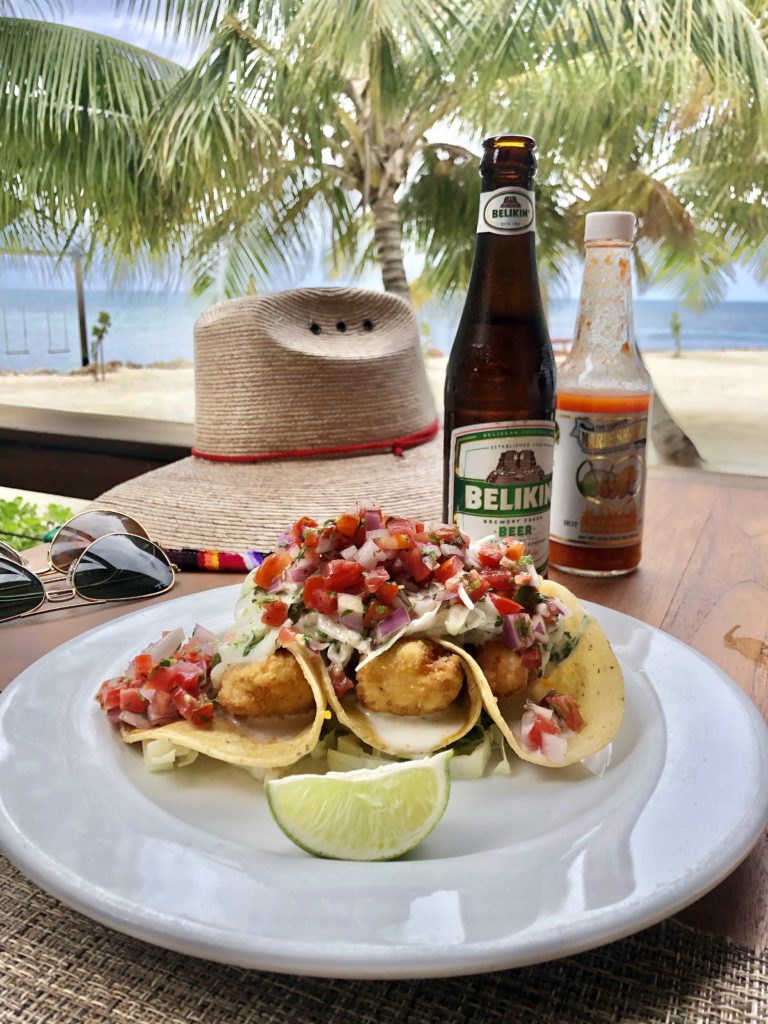 Hello hello y'all! Today I am sharing a food round-up from our recent anniversary trip to Raye Caye Island Resort. Get ready to drool!

Open to the public as well as guests, Lionfish Grill is open seven days a week for breakfast, lunch and dinner. The Belizean restaurant offers a unique and expansive menu made up of local produce, some of which is grown in the island's own organic garden (see image below) and the freshest seafood, including lionfish!
*Ray Caye is in the process of opening a second restaurant, Catch 831, which will be open to solely guests. We can't wait to try it out on our next stay!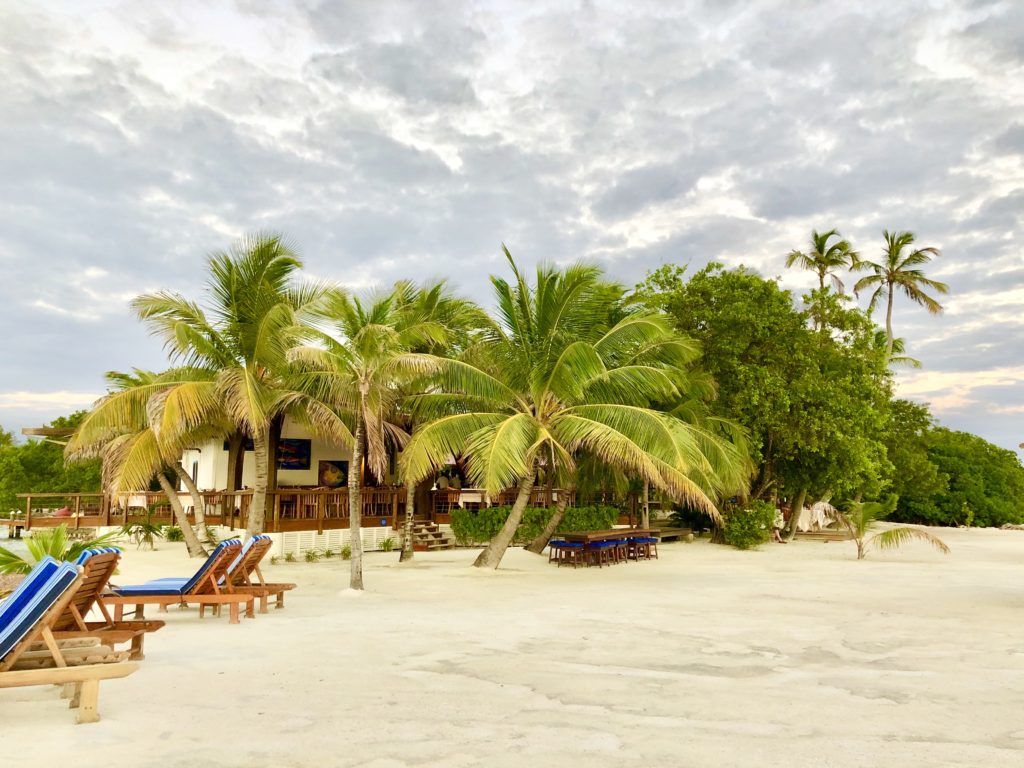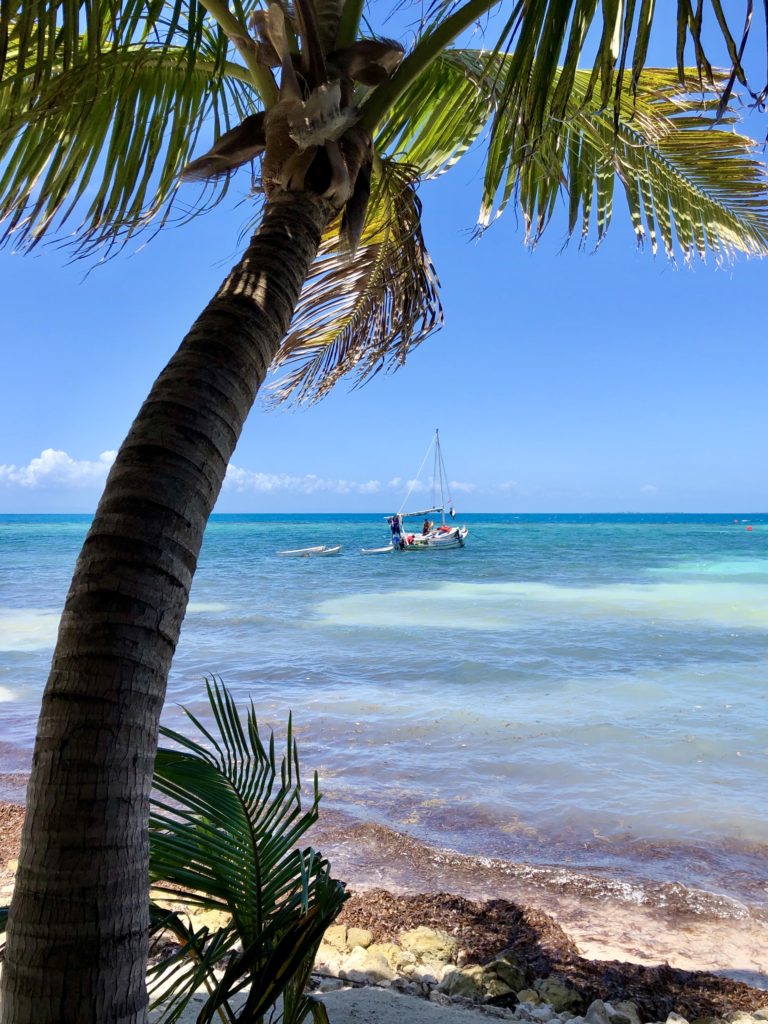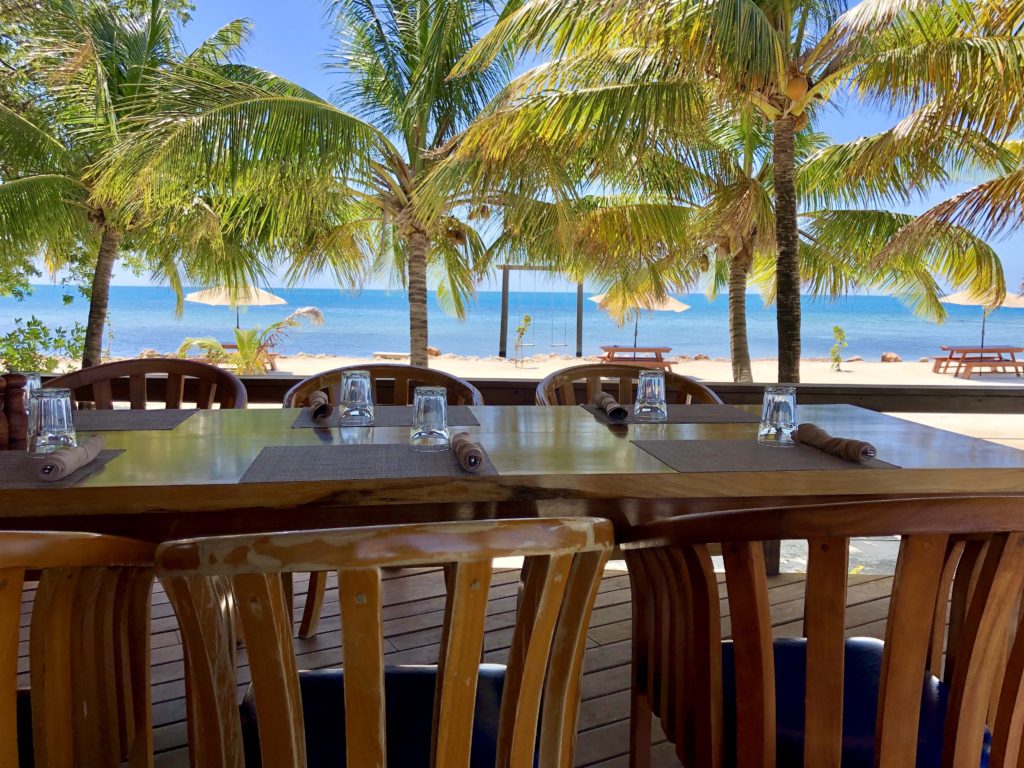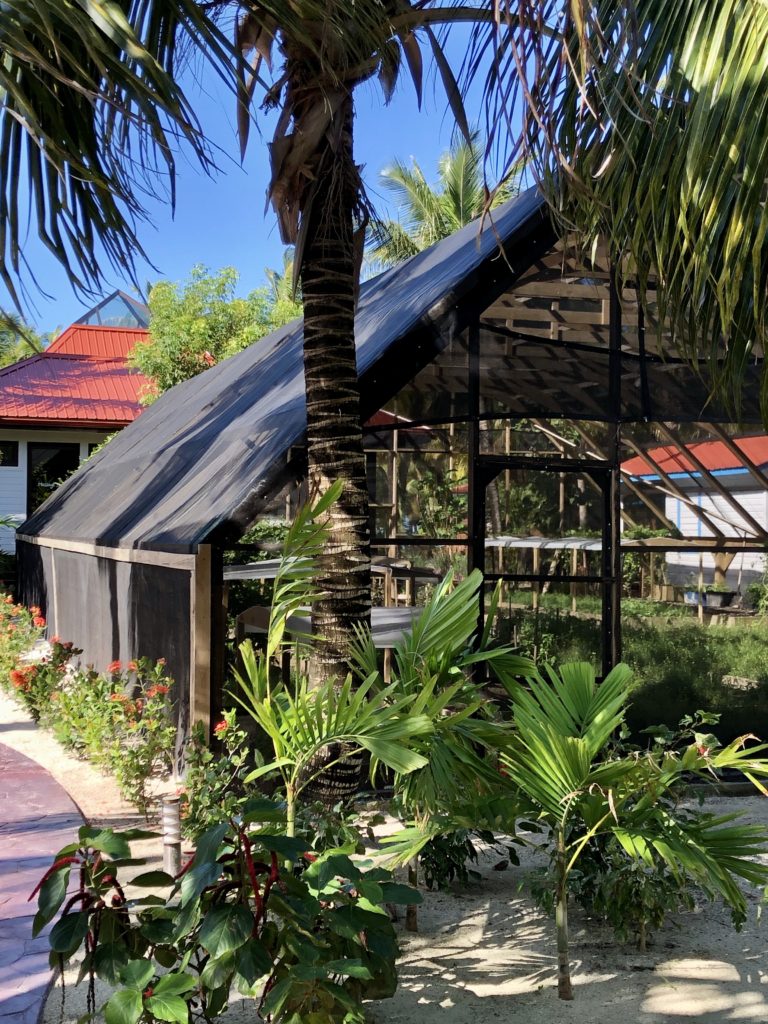 Lionfish, while exotic and beautiful, are a menace to the waters of Belize. Guests can help control the local lionfish population and support the Belize Lionfish Project by enjoying some of Ray Caye's signature Lionfish dishes! Lion fish is delicious btw, but more on that later.
During our stay at Ray Caye, we opted for the resort's meal plan which is $95 per day per person for adults and $50 per day per person for children and includes coffee, hot tea and one breakfast menu item, one lunch menu item and a three course dinner including a starter, a main and a dessert. Ray Caye also offers a drink plan which is $65 per day per person and includes soft drinks, local beers and local rum drinks. We didn't do the drink plan because we aren't big rum drinkers and we like having wine at dinner.
For breakfast and lunch at Ray Caye there is a menu with many items to choose from but at dinner it's specials only which we found fun and exciting. Based on whatever the chef gets in that day he crafts a beautiful menu featuring two appetizer and two dessert options and three entree options.
Our first meal at Lionfish Grill was dinner our first night at Ray Caye. With a table right on the water and a bottle of chilled wine, we were ready to hear the night's specials! For dinner that evening our appetizer options were potato and leek soup, which I got, and a calamari salad with sweet chili dressing, which W got. For the entree selections there was a shrimp curry served with mashed potatoes and veggies, which I got, cornish game hen served with mushroom risotto, which W got, and pork chops. For dessert I got the white cake filled with berries and W got the fruit roll. EVERYTHING was so amazing! You could just taste how fresh everything was! And the service matched! Our server was charming and charismatic and made our dinner flawless!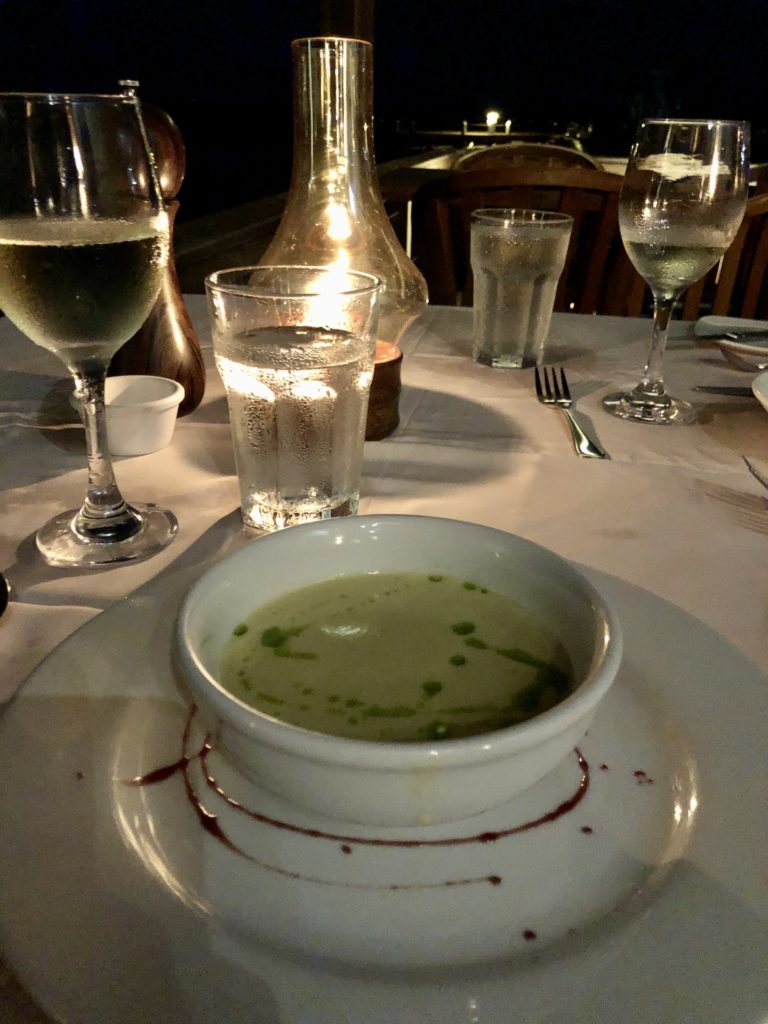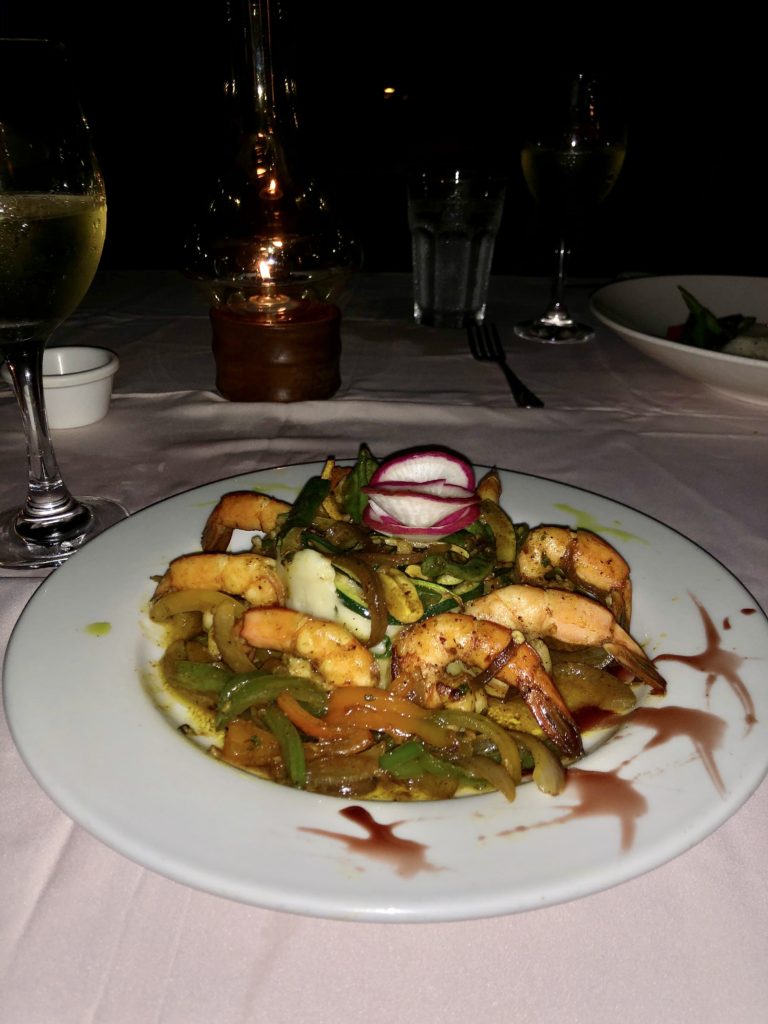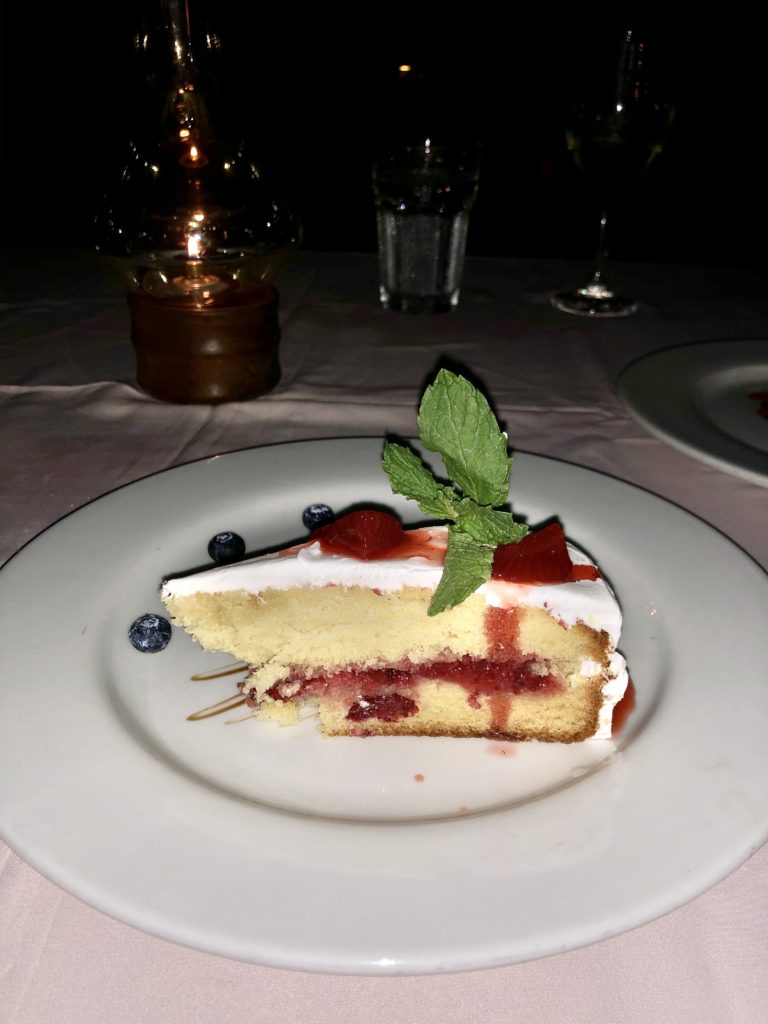 Before dinner that night we had cocktails on the beach to watch the sunset. The cocktails at Ray Caye are just as delish as the food! It was probably the best mojito I've ever had!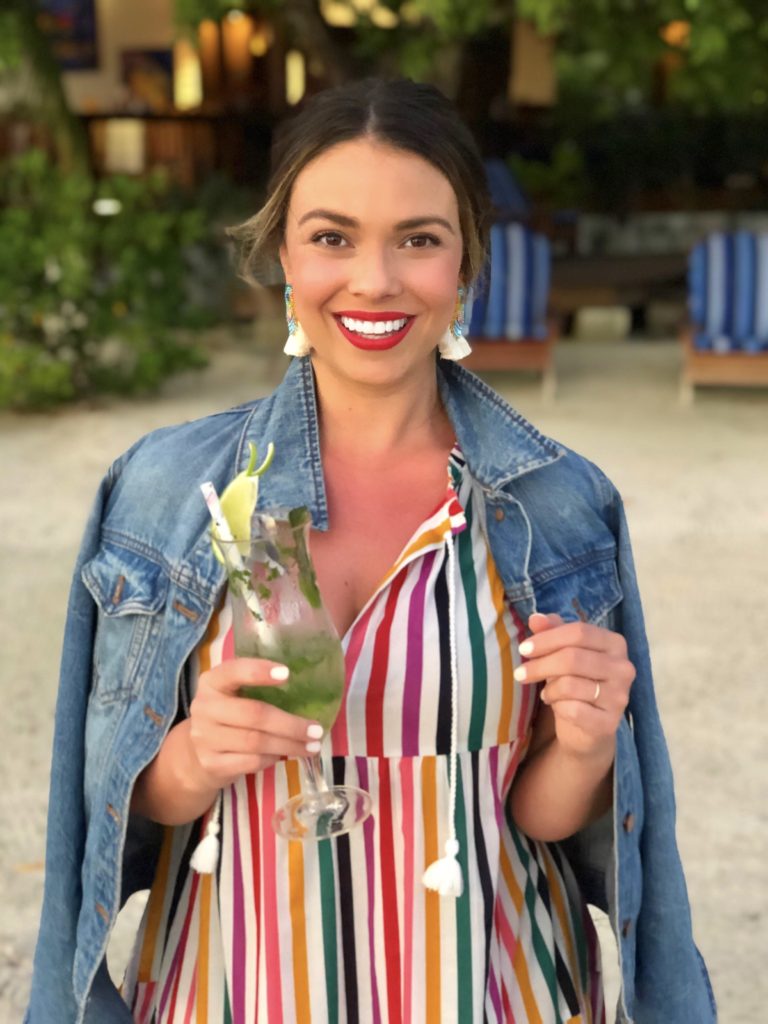 shop the look

The restaurant starts serving coffee at 6:30am so we got ourselves a cup the next morning and hit the beach to watch the local pelicans fish. It was so relaxing. Just what the doctor ordered! And the coffee was extra good too!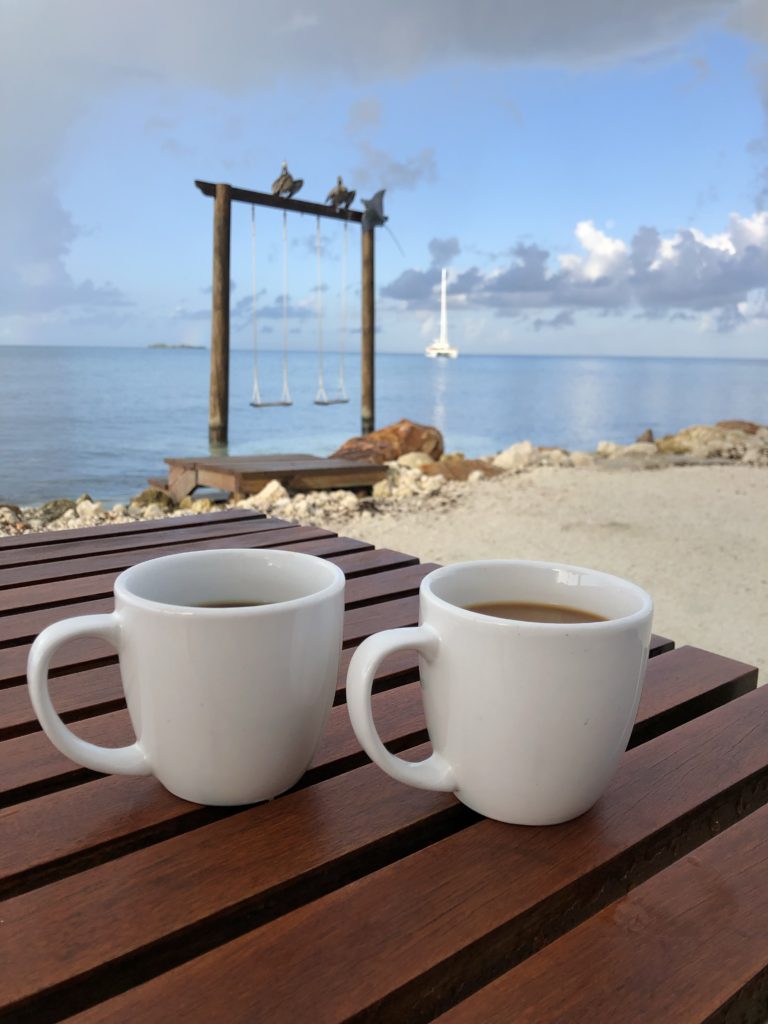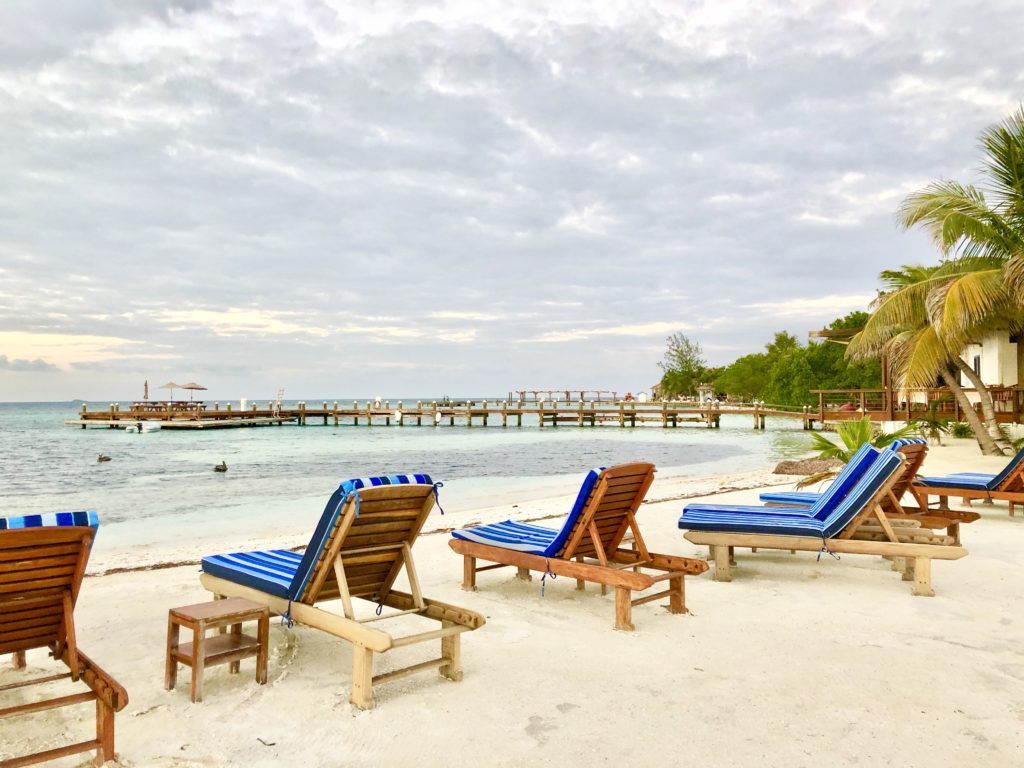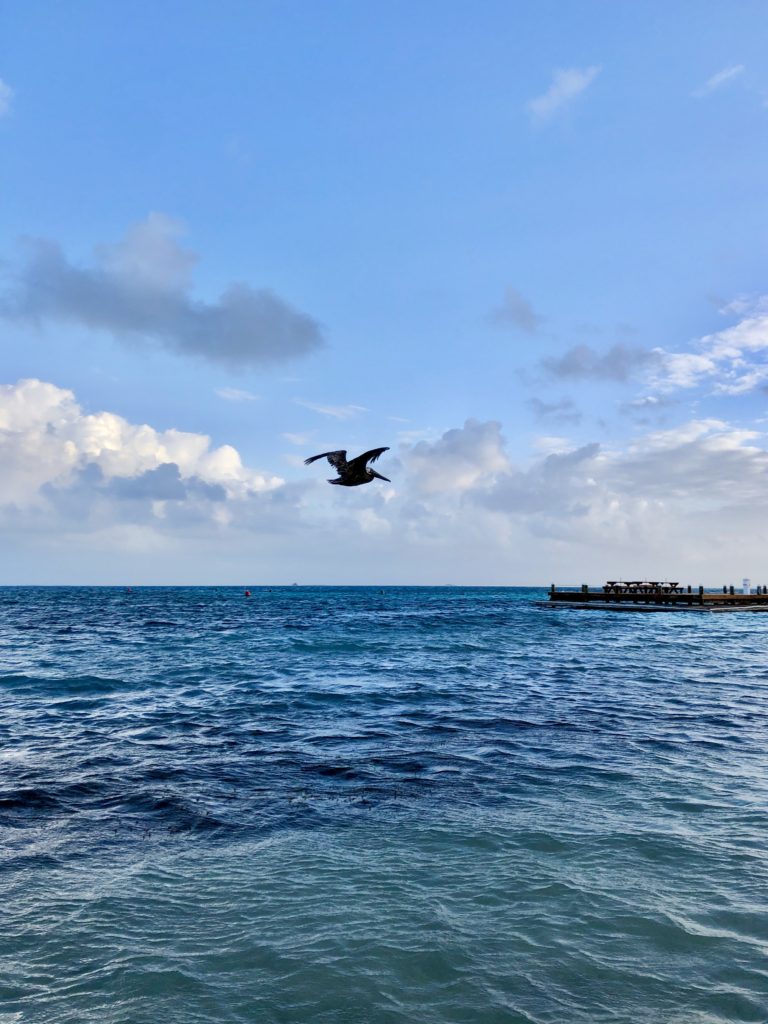 Once well caffeinated we had breakfast. I had the huevos rancheros and W the "pirate reef breakfast" which was lionfish hash, refried beans and fry jacks. Fry jacks, a traditional dish in Belizean cuisine, are deep fried dough and they're delicious, as was the rest of our breakfast.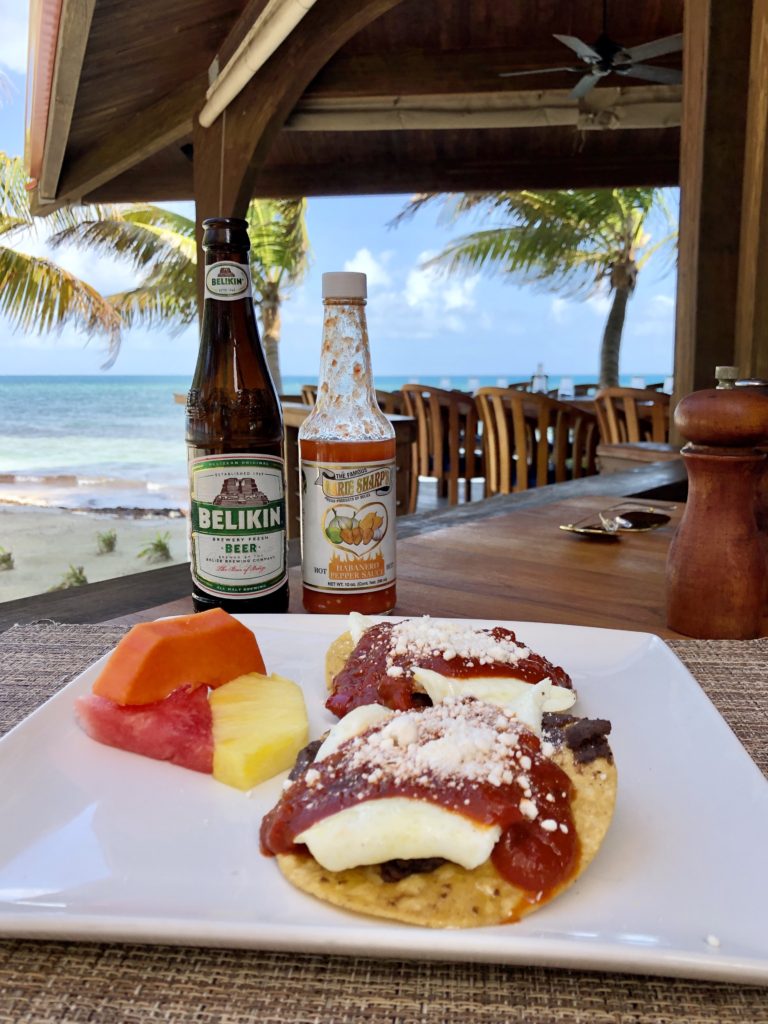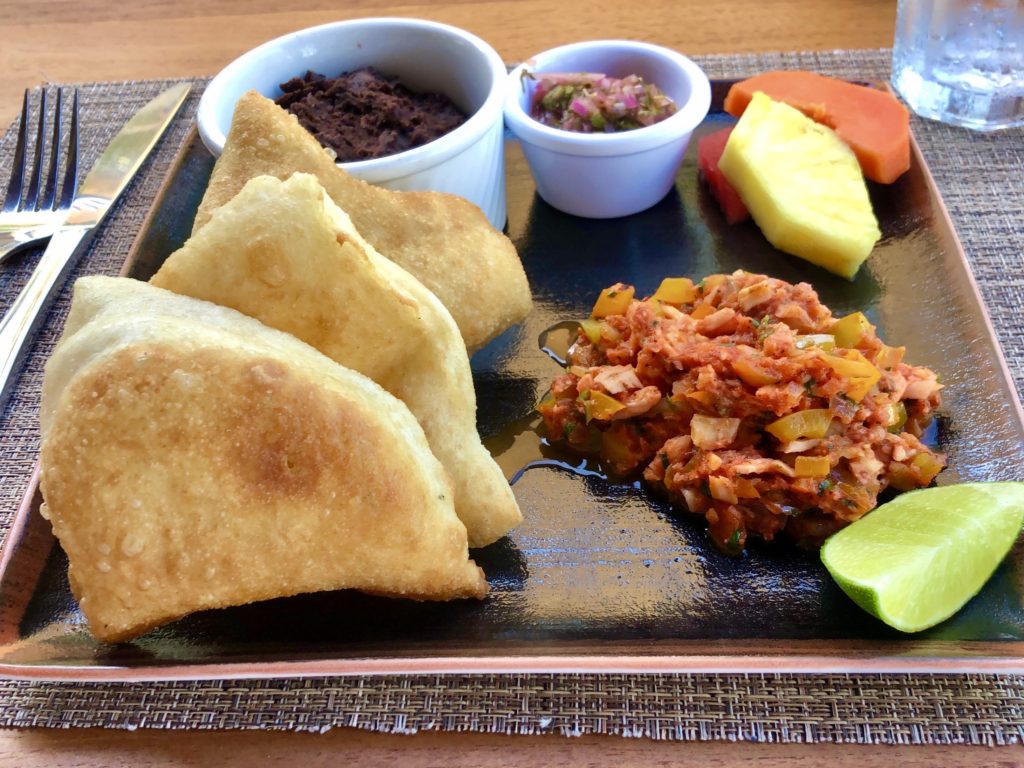 For lunch that day we started with conch ceviche which was amazing and we both had lionfish tacos. THEY WERE SO GOOD! The fish was so tender and buttery and they were fried to perfection and topped with the freshest and tastiest toppings. Delicious tacos and helping preserve the reefs of Belize? Its a win win!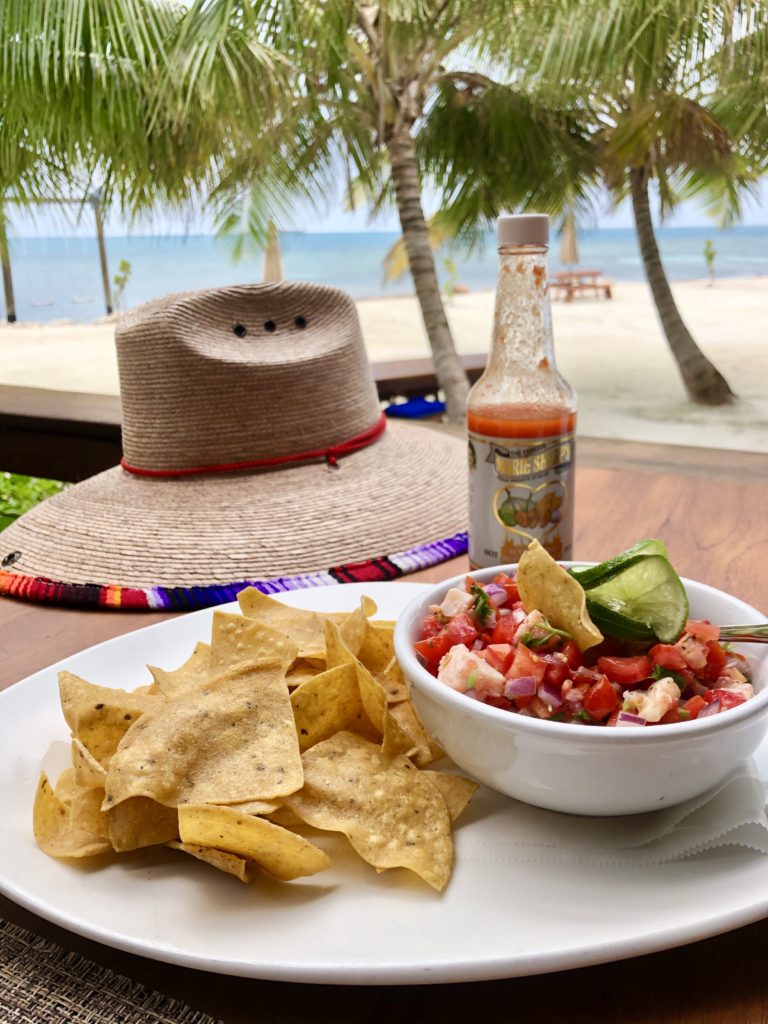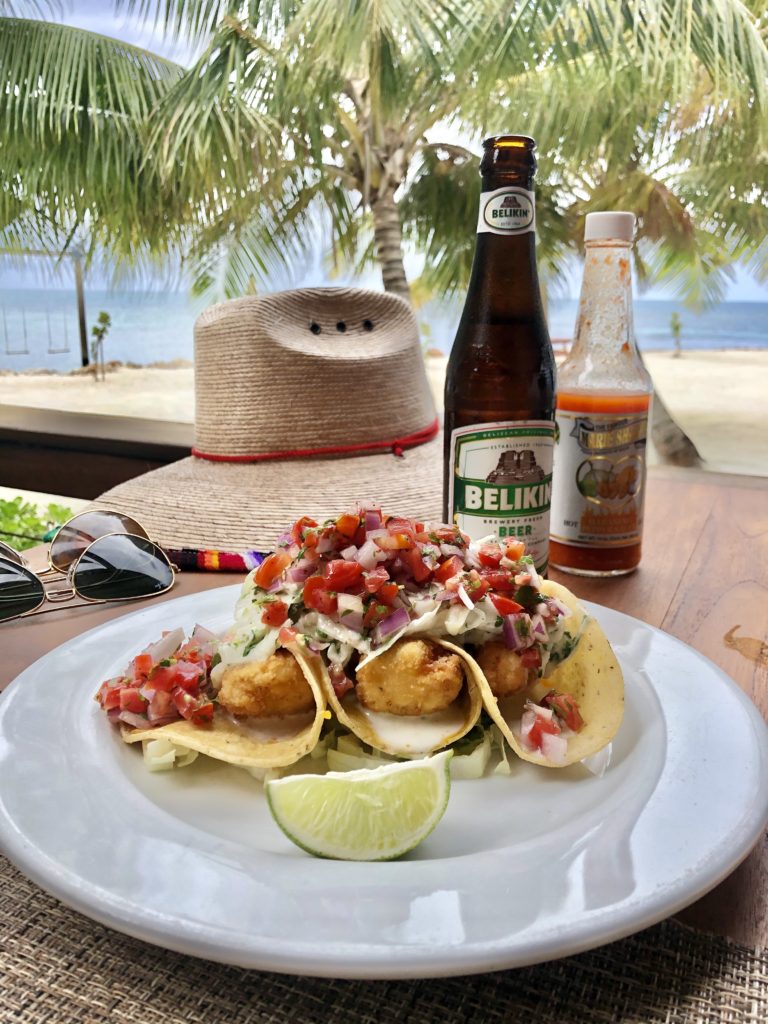 Later than night, we freshened up and hit the bar for more delicious cocktails! A martini for W and a frozen spicy margarita for me. The marg was so good! Ok, it was more like margs, with an "s". Too good just to have one! We sat on the beach, sipped our yummy cocktails and watched the sunset over the crystal clear water.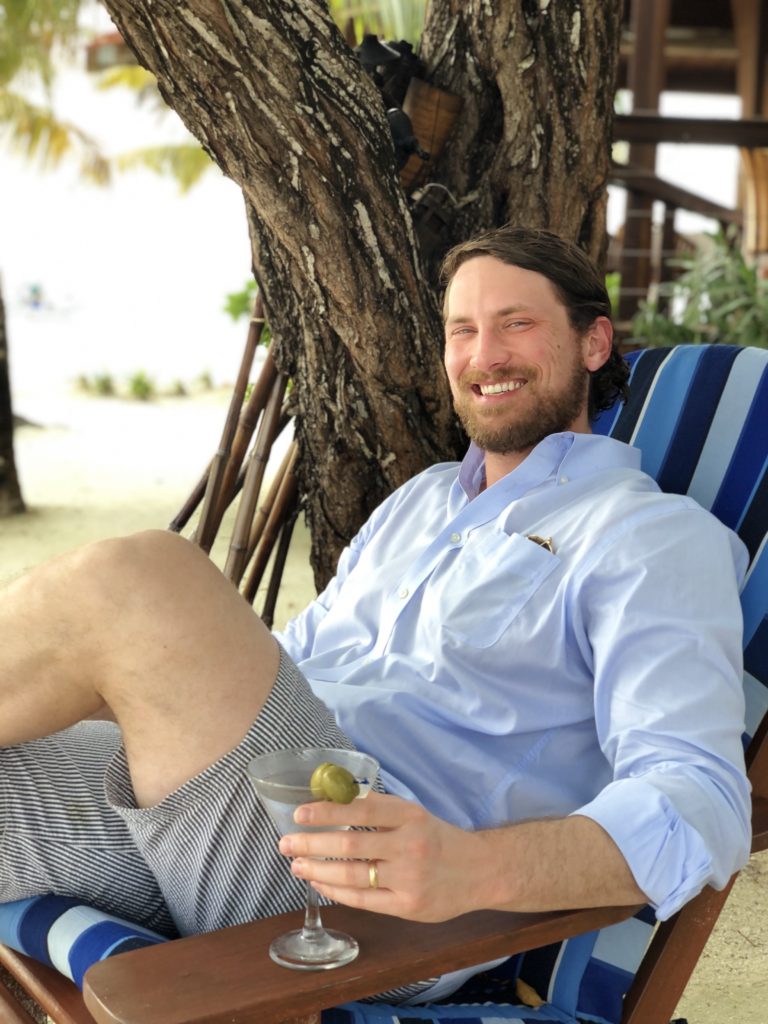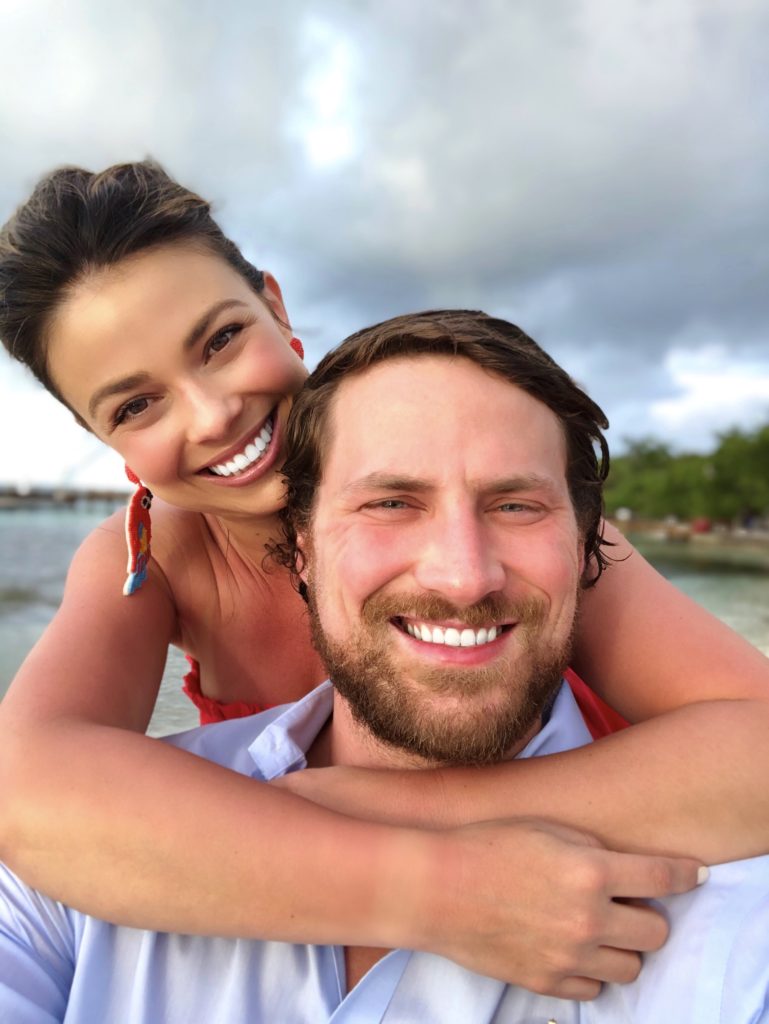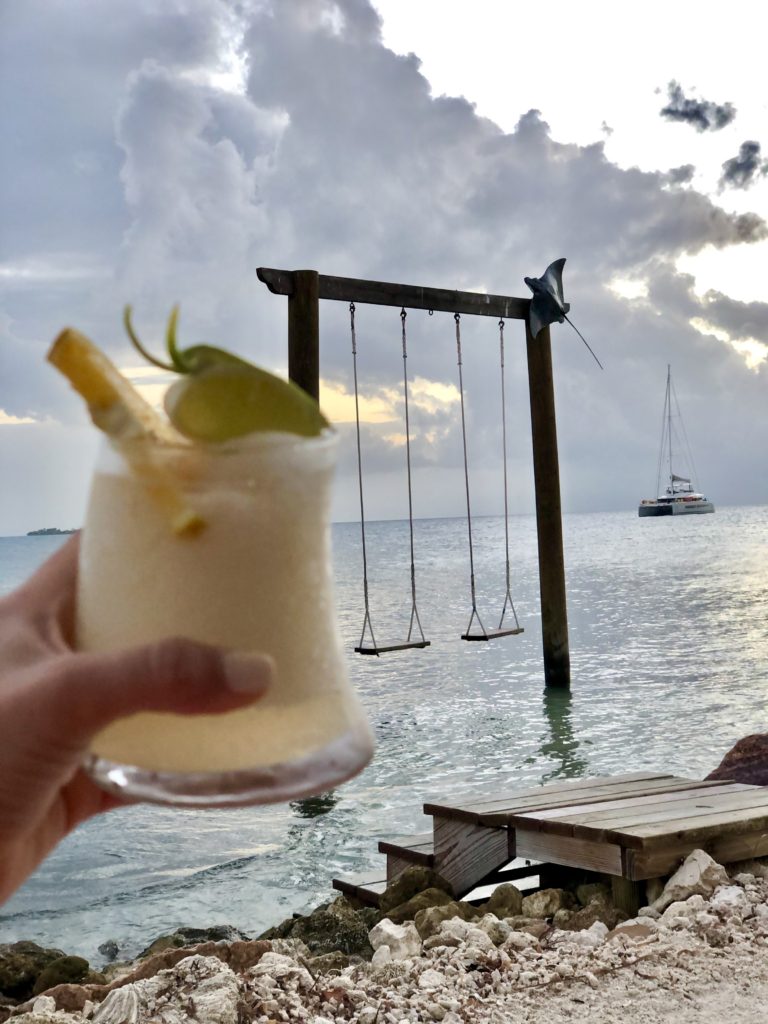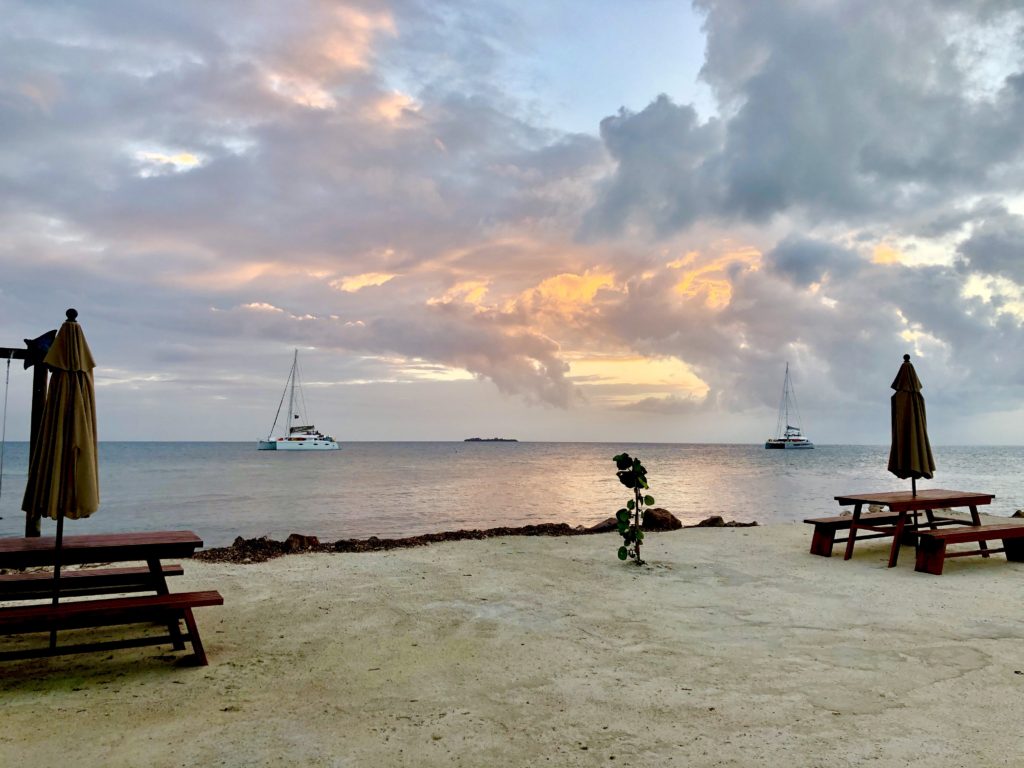 Next up was another amazing meal at Lionfish Grill. I forget what all the options were (those frozen spicy margaritas were good, real good!) but we both started with conch fritters and each had the ribeye for our entrees. The ribeye was wrapped in bacon and served with roasted potatoes. Delish! We wrapped up our meal with homemade ice cream. Basil for me and coconut for W. Yum!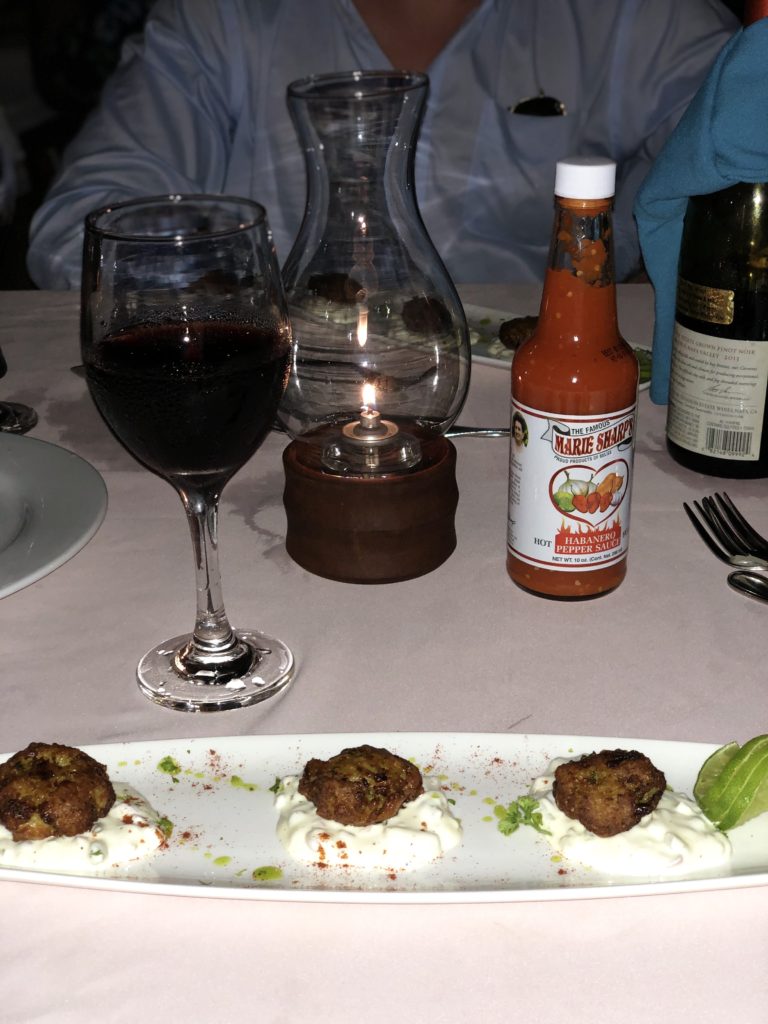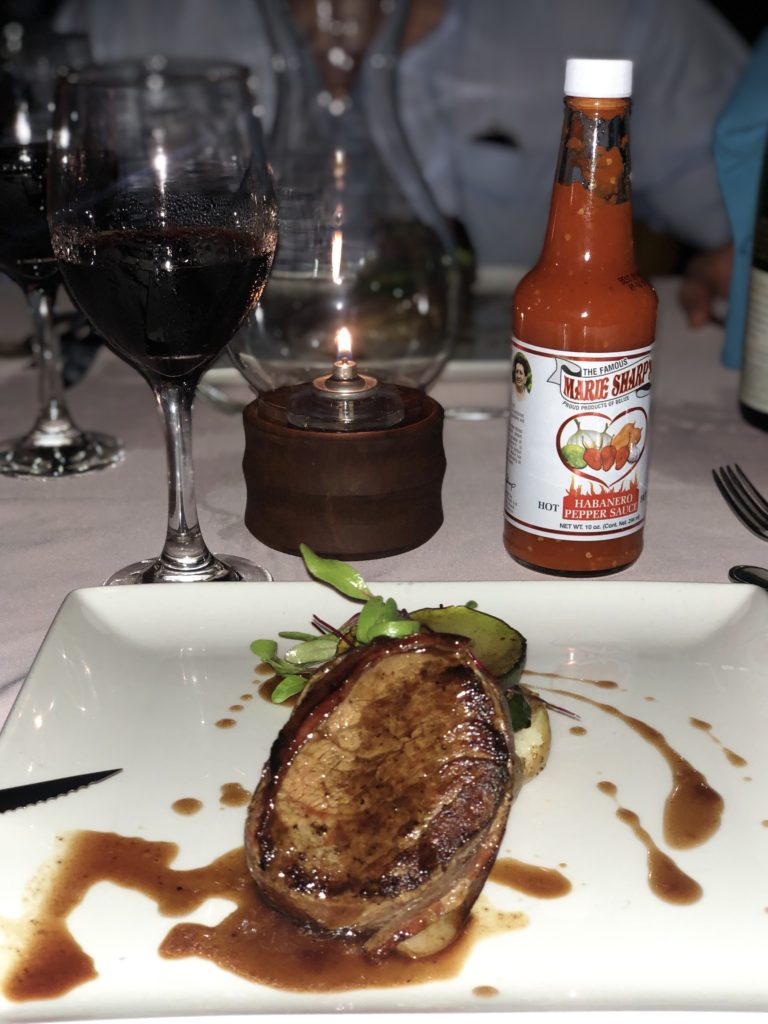 For breakfast that morning I had a ham and avocado breakfast burrito and W had a fruit plate. W said the fruit was so sweet and fresh and delicious! The breakfast burrito was amazing as well! Especially topped with Belize's famous Marie Sharp's hot sauce!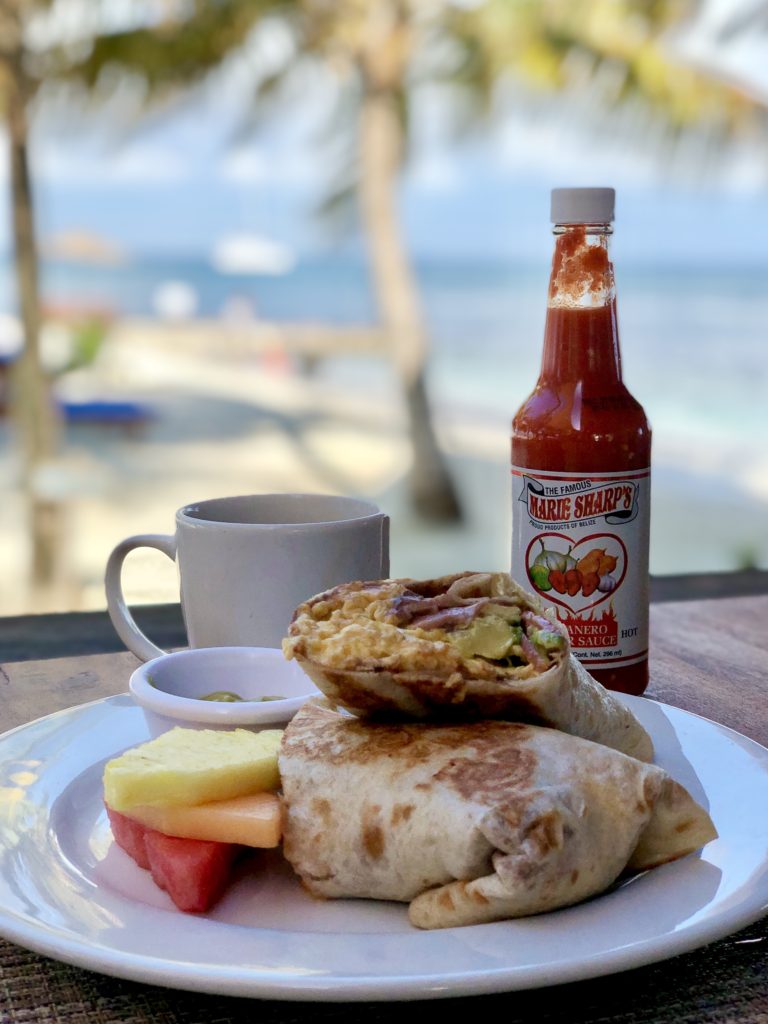 For lunch later that afternoon I had a scrumptious crispy fried snapper sandwich and W had a fish basket. Both were served with these amazing chips and were simply delicious! I don't know what they put in the tartar sauce at Lionfish Grill, but I had to ask for seconds at multiple meals because it was so good! The chips, made from a root veggie similar to a yuca were insanely good too!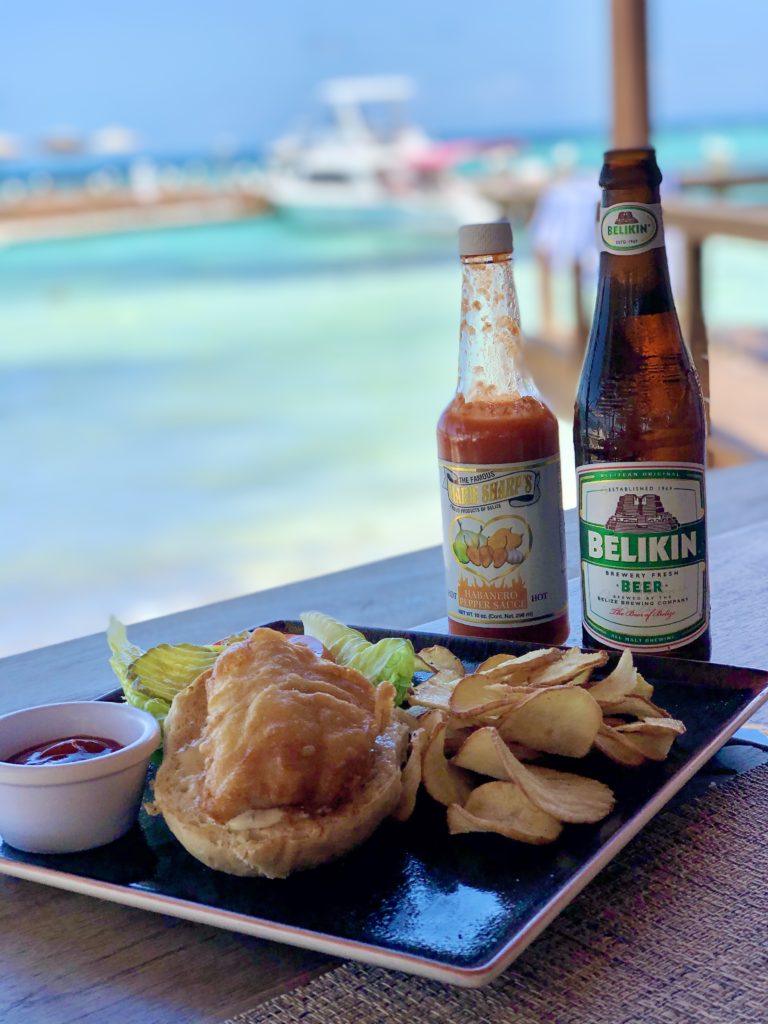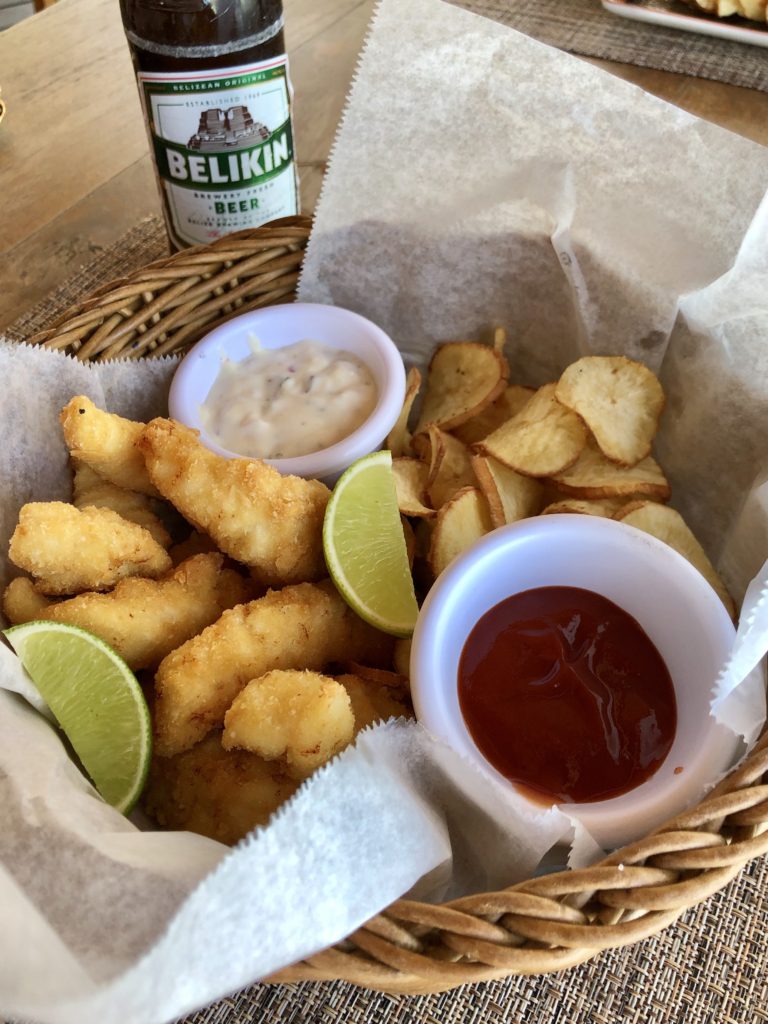 For dinner that night we were in for another treat. We both started with the shrimp cocktail which was INSANE! So good! I had the duck with was served with corn and sweet potatoes, and W the seafood risotto. Both scrumptious! The third entree option that evening was ribs. It was such a challenge every night making our selections because everything sounded so good! And I had frozen key lime pie for dessert.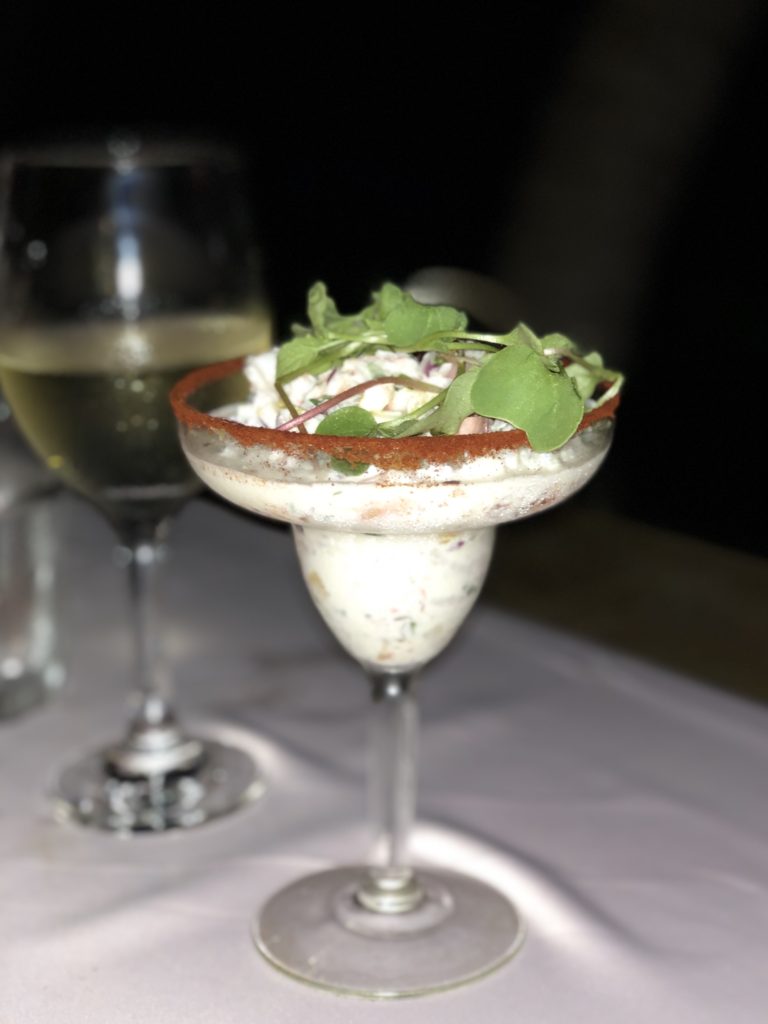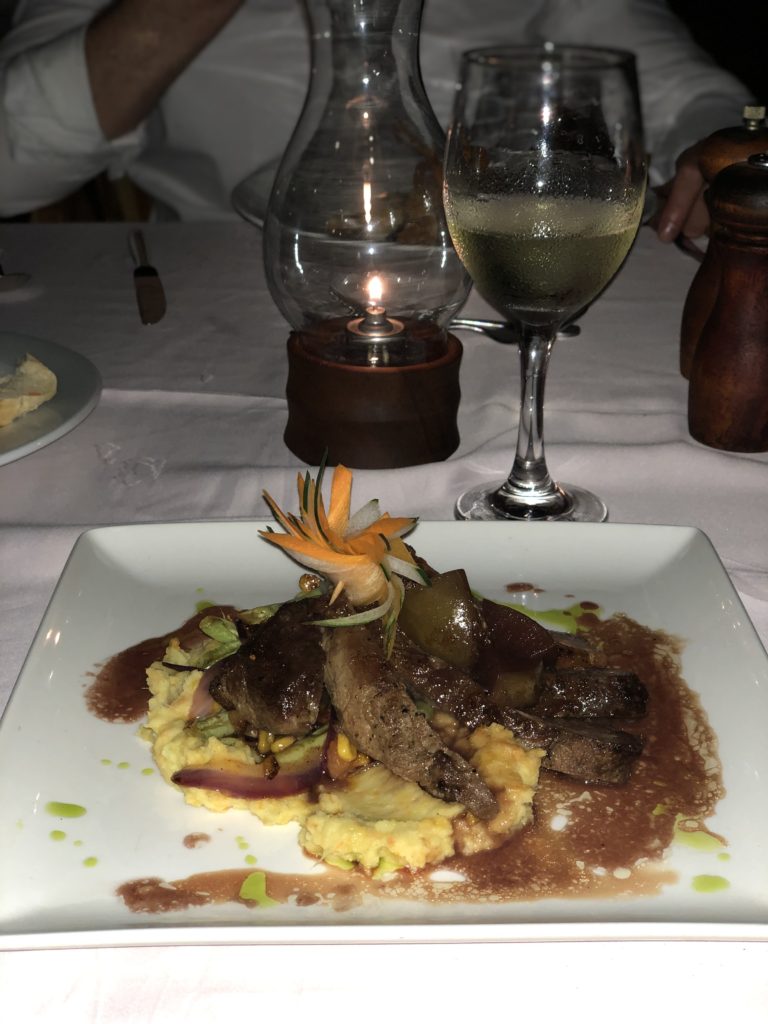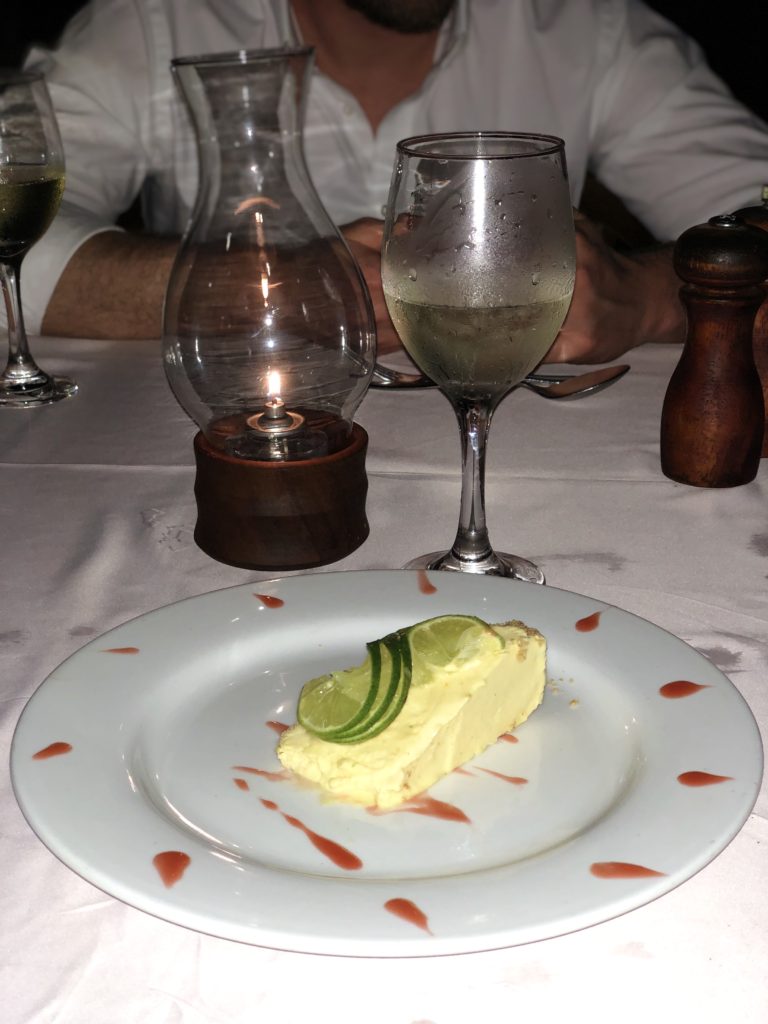 On our last full day at Ray Caye we went fishing. Click here for all the details on our fishing trip. We caught enough fish for the remainder of our stay AND fish left over for William and Elroy, our fishing guide and captain!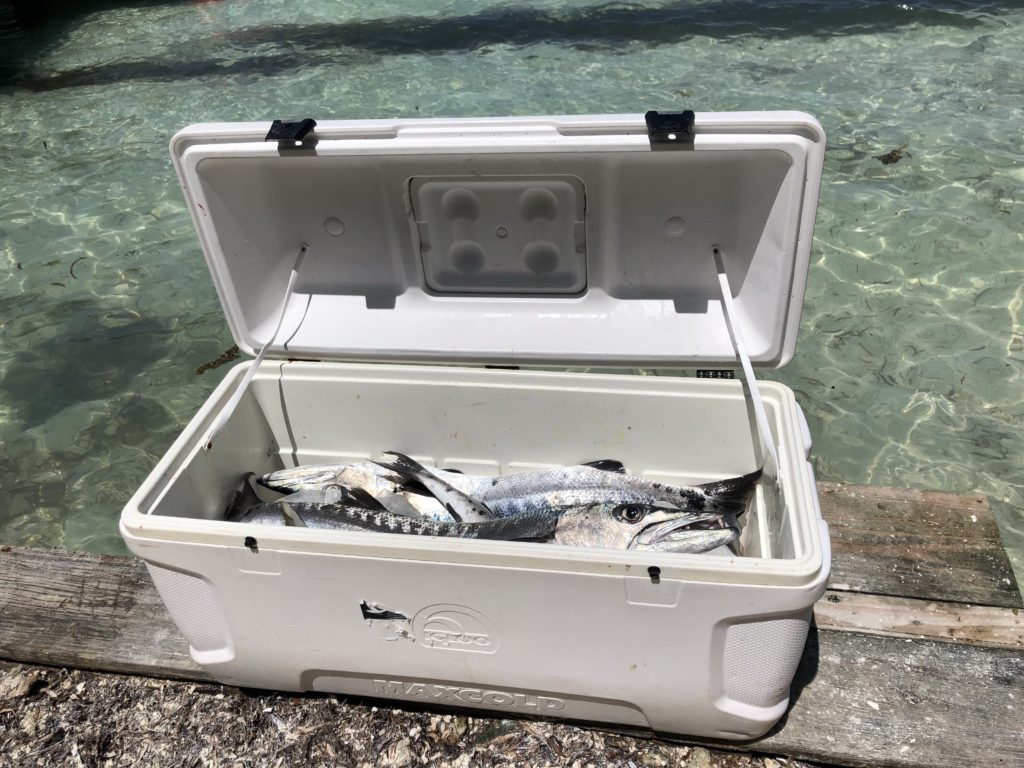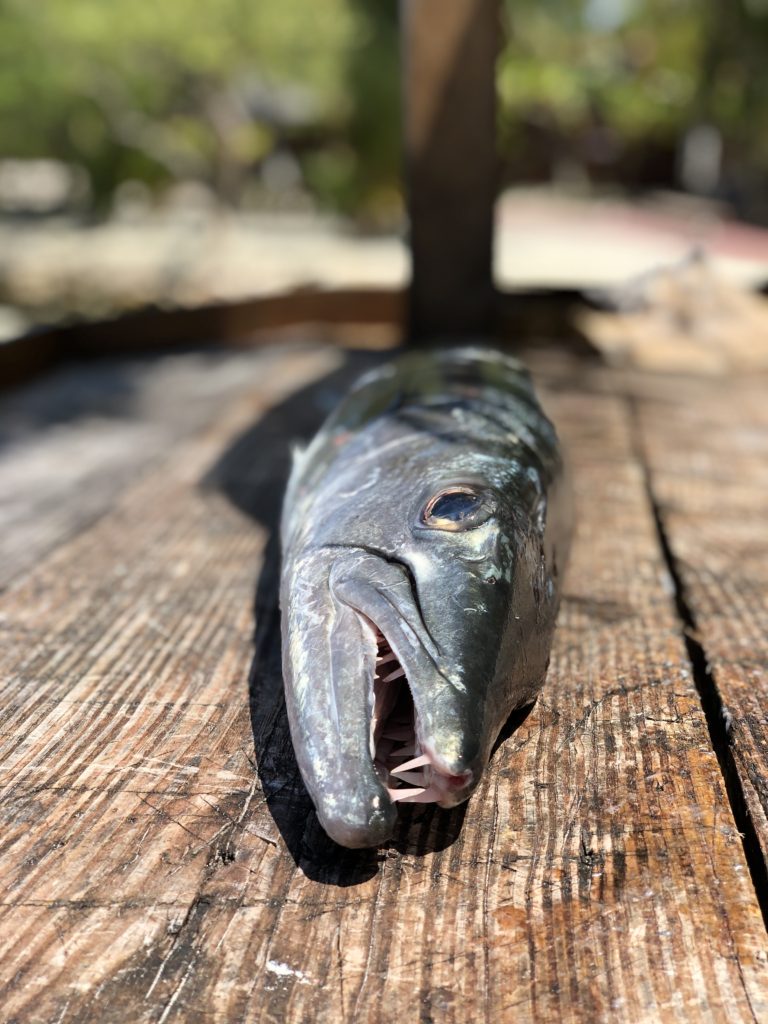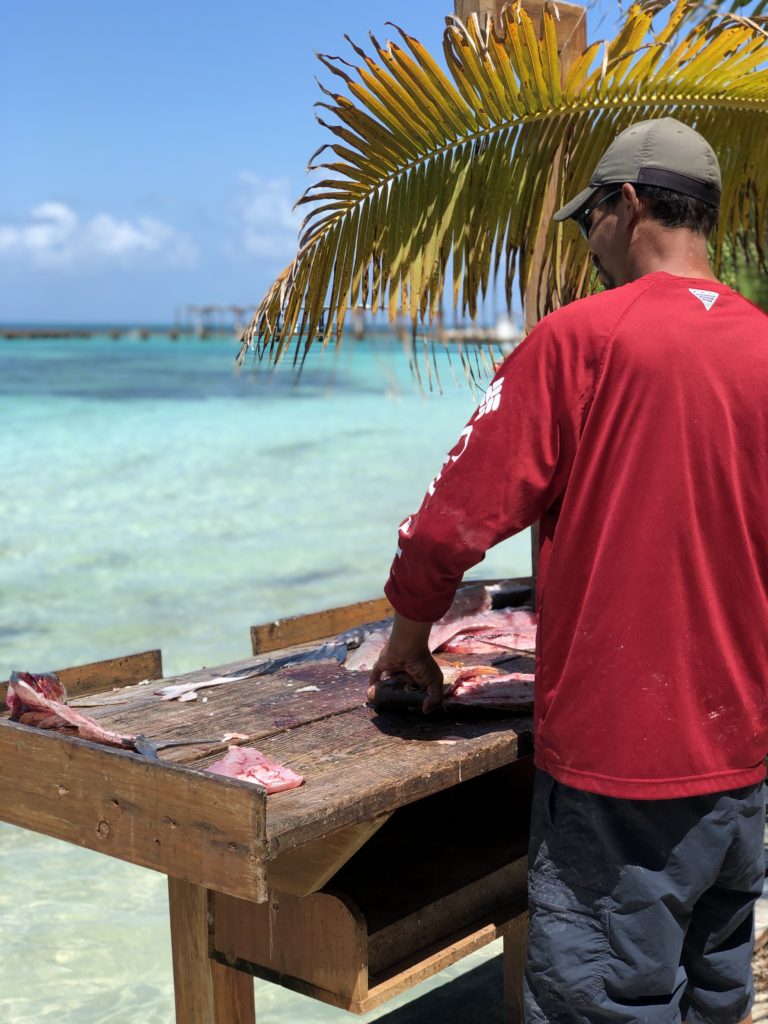 After working up quite an appetite fishing, we had lunch at Lionfish Grill where the chef prepared the fish we had just caught! Talk about fresh! We had blacked and fried barracuda (OMG! It was so good!) and barracuda tacos. It was all so tasty and made even tastier knowing we had really worked for our supper.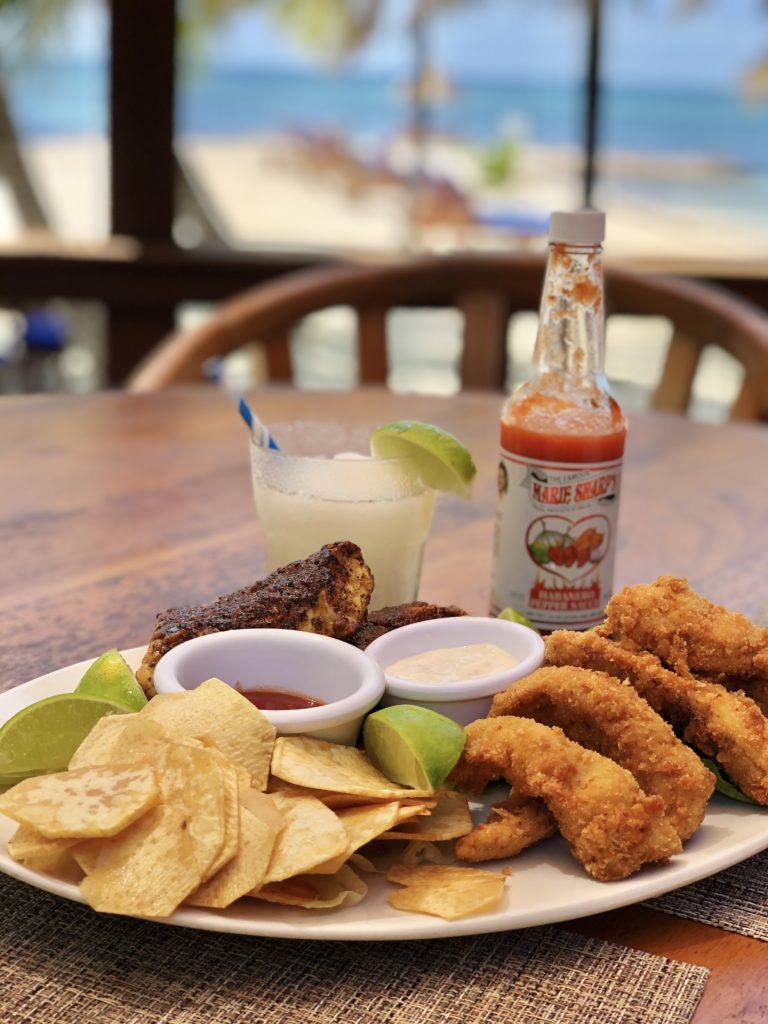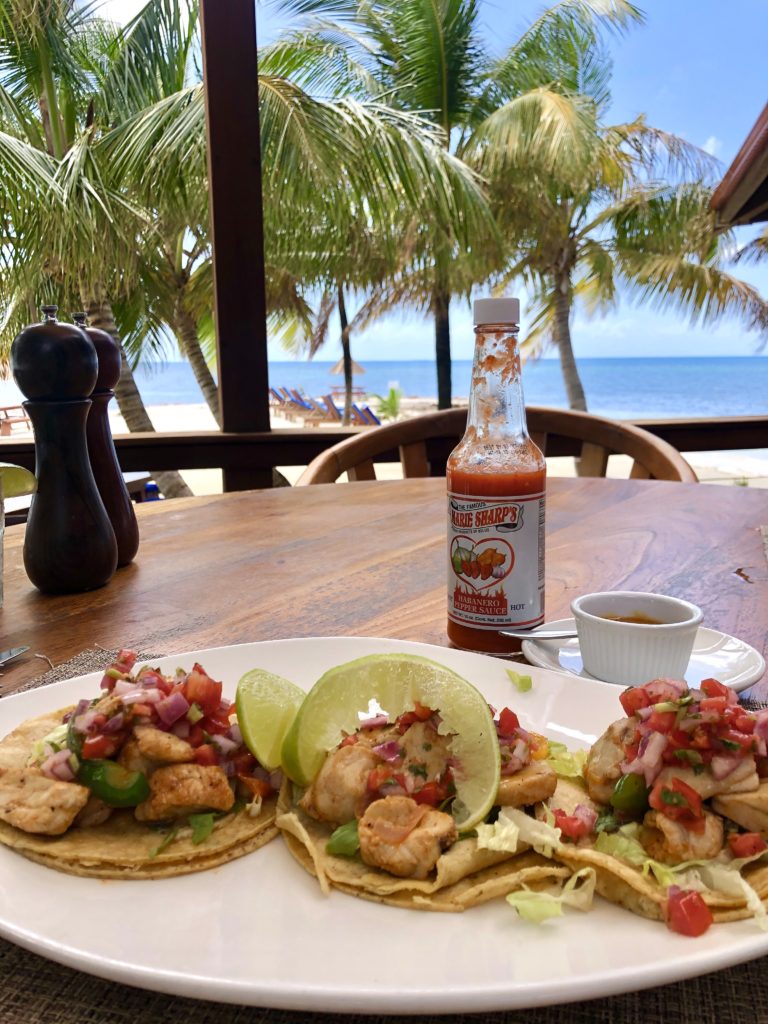 For dinner that night, I started with shrimp bisque and grilled bread (yum!) and W, a green salad. For our entree the chef prepared our catch from early that day and we feasted on blacked snapper and mackerel served with twice baked potatoes and grilled asparagus. We topped the meal off with chocolate cake for dessert. Perfection.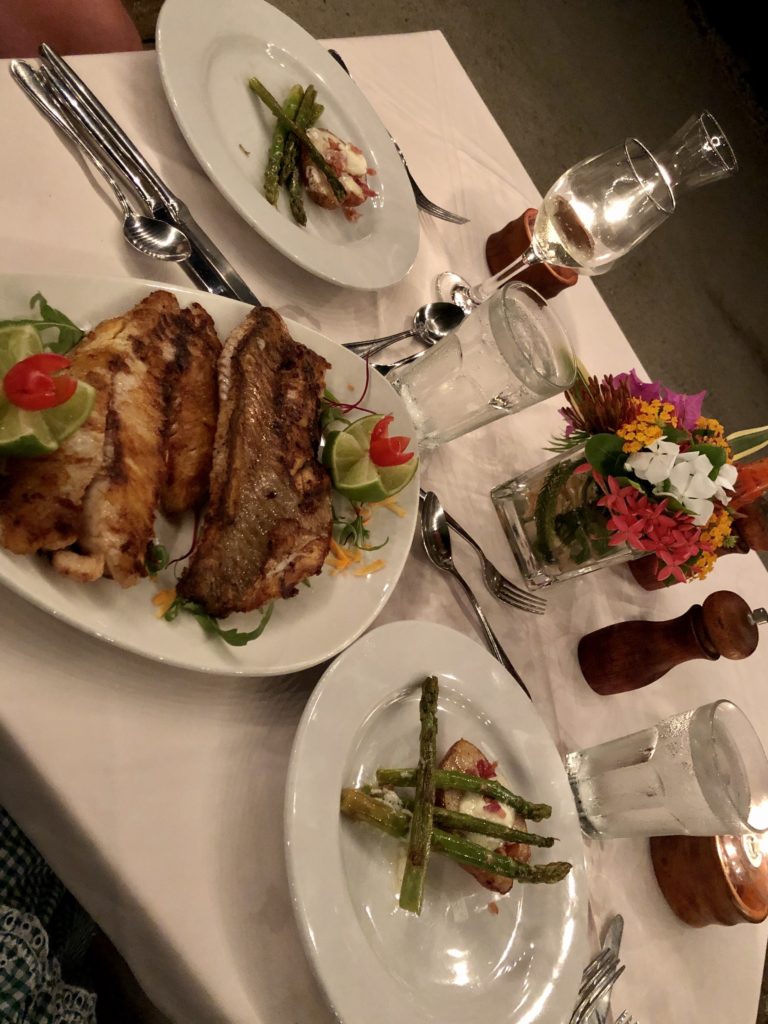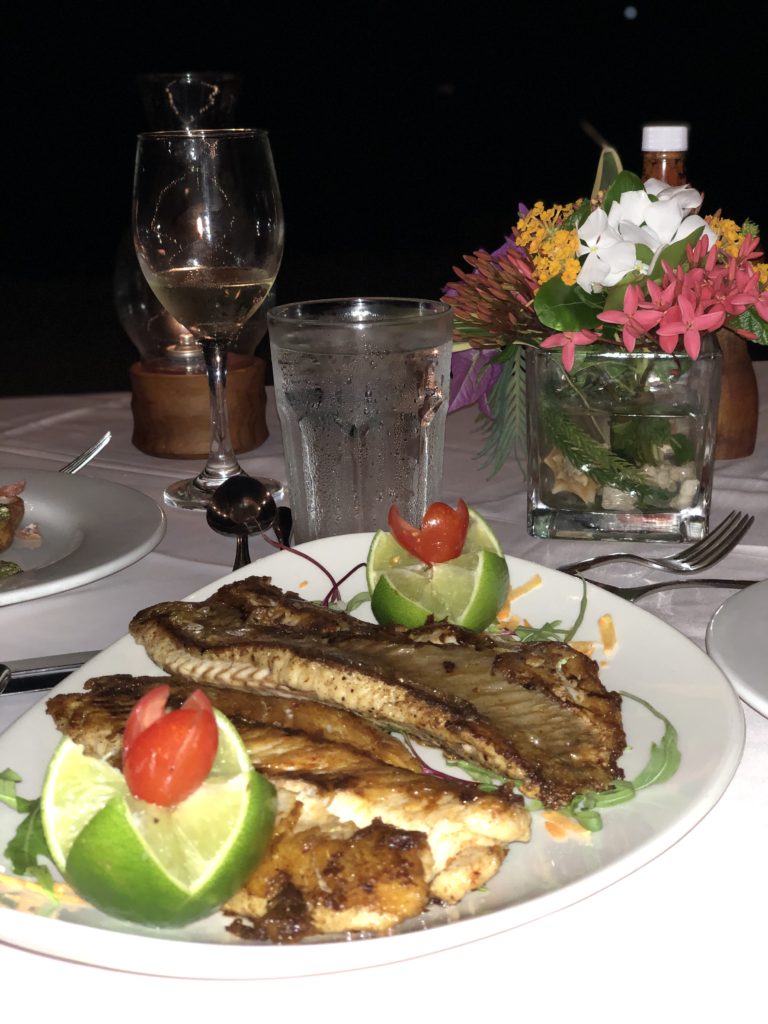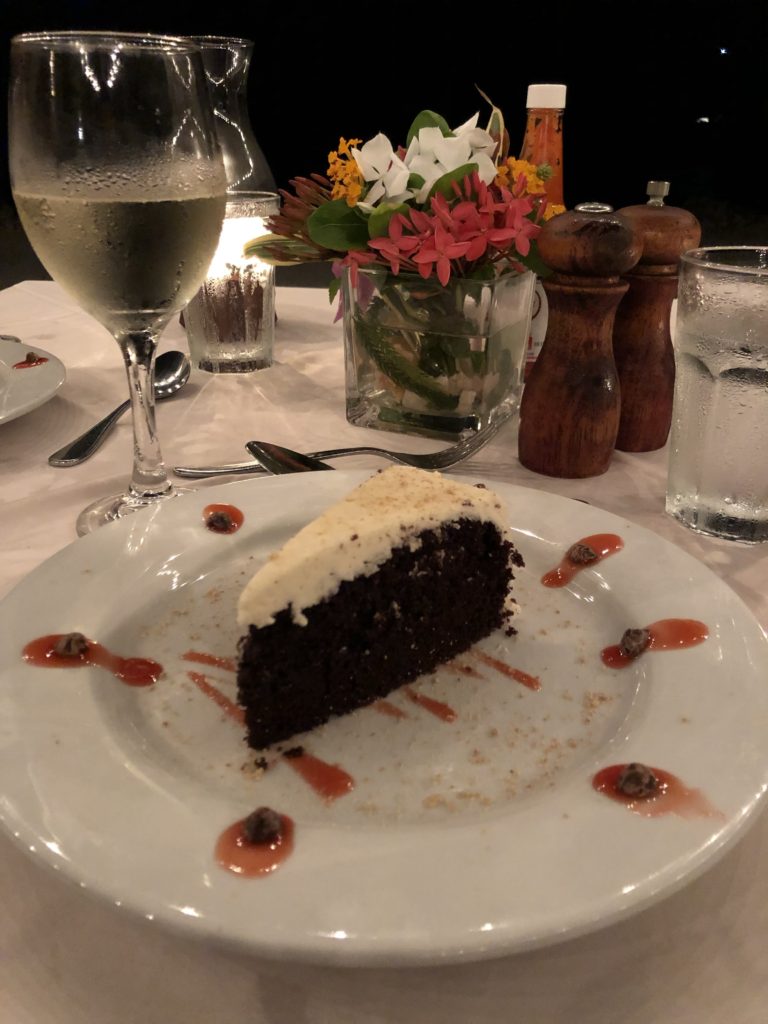 The next morning we enjoyed our last coffees on the beach so sad to be leaving. For breakfast I had huevos rancheros and W had the breakfast burrito with bacon.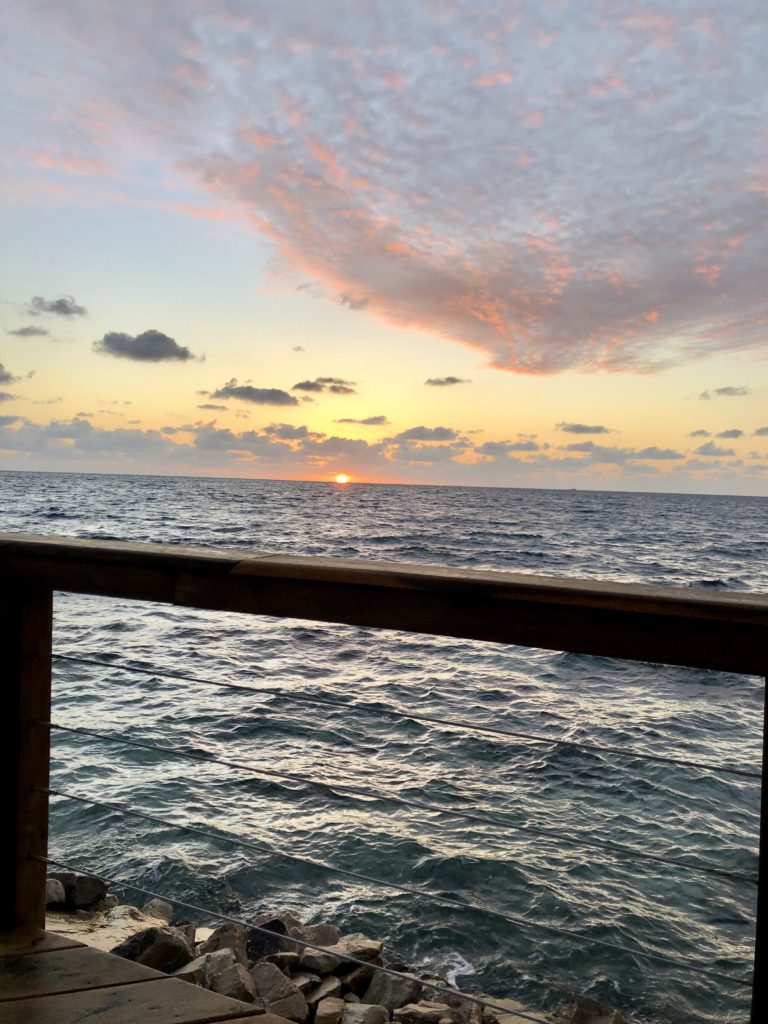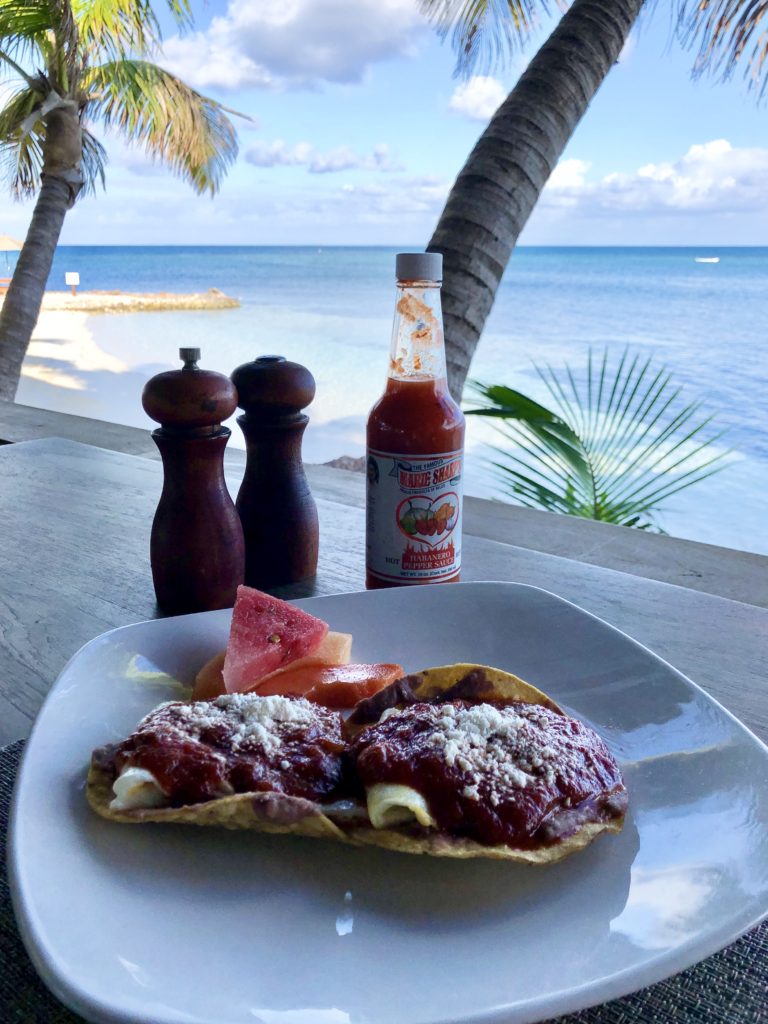 Thank you to every one at Ray Caye for knocking our anniversary trip out of the park! We cannot wait to return. Until then, I will dreaming of those lionfish tacos…
Kisses and foodie wishes,