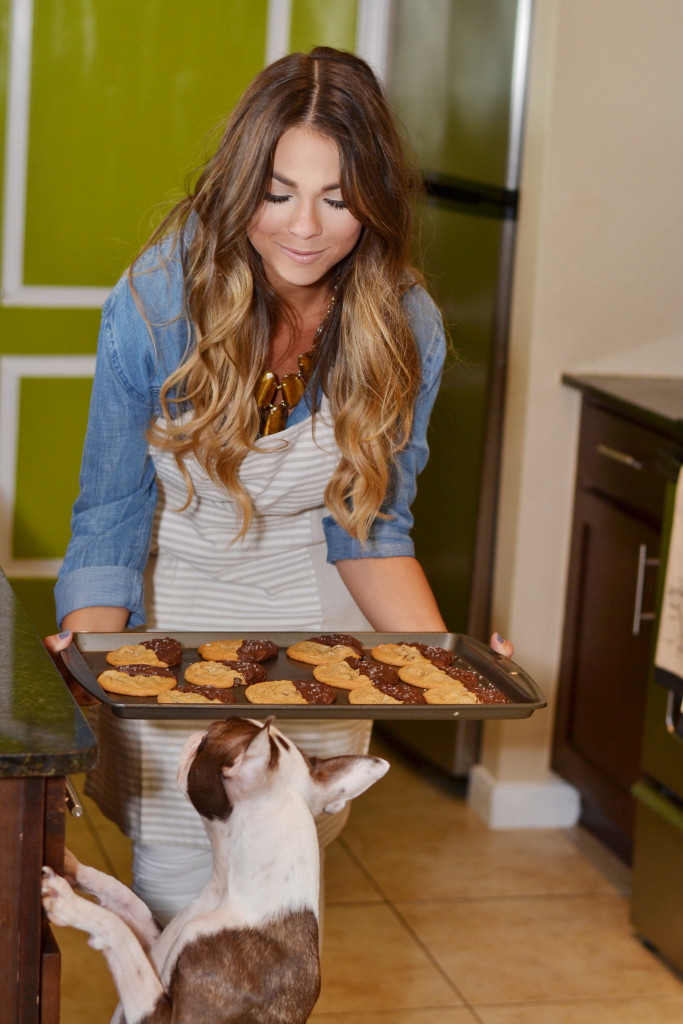 Walker and I had only been together a few weeks when he finished his second year of law school.  I wanted to get him something to congratulate him and show him how proud of him I was, but we hadn't been dating very long so I didn't want to get him anything too over the top. I decided that making him cookies would be a sweet gesture but not too aggressive. We had planned a date night to celebrate and the entire day before I was telling him how excited I was to give him his gift. When he came over to pick me up for our date, I realized I had way over sold the whole "gift" thing. Thankfully, he didn't feel that way and we can laugh about it now. They've quickly become his favorite (and his roommates'). He loved the cookies and now I make them for him all the time.
The recipe is very simple but the dipped chocolate and sea salt add a special touch.
Ingredients
2 1/4 cups all-purpose flour
1 teaspoon baking soda
1 teaspoon salt
2 sticks butter, softened
3/4 cup granulated sugar
3/4 cup packed brown sugar
1 teaspoon vanilla extract
2 large eggs
2 cups semi-sweet chocolate chips
2 cups dark chocolate chips
Sea salt
Directions
Preheat oven to 375° F.
Combine flour, baking soda and salt in small bowl. Mix butter, sugar, brown sugar and vanilla extract in large mixing bowl until creamy. Add eggs, one at a time. Slowly beat in flour mixture. Stir in 2 cups chocolate chips. Place tablespoon sized rounds of cookie dough onto ungreased baking sheets.
Bake for 8 to 10 minutes or until golden brown. Cool on baking sheets for 2 minutes then move to wire cooling racks to finish cooling.
While cookies are cooling, place dark chocolate chips in a microwave-safe bowl and microwave for 15 seconds. Remove from microwave and stir. Repeat until chocolate is felted. Dip 1/3-1/2 of the cookie into the chocolate and place back on wire rack to cool. Once all cookies have been dipped sprinkle with sea salt.
Kisses and chocolaty wishes,