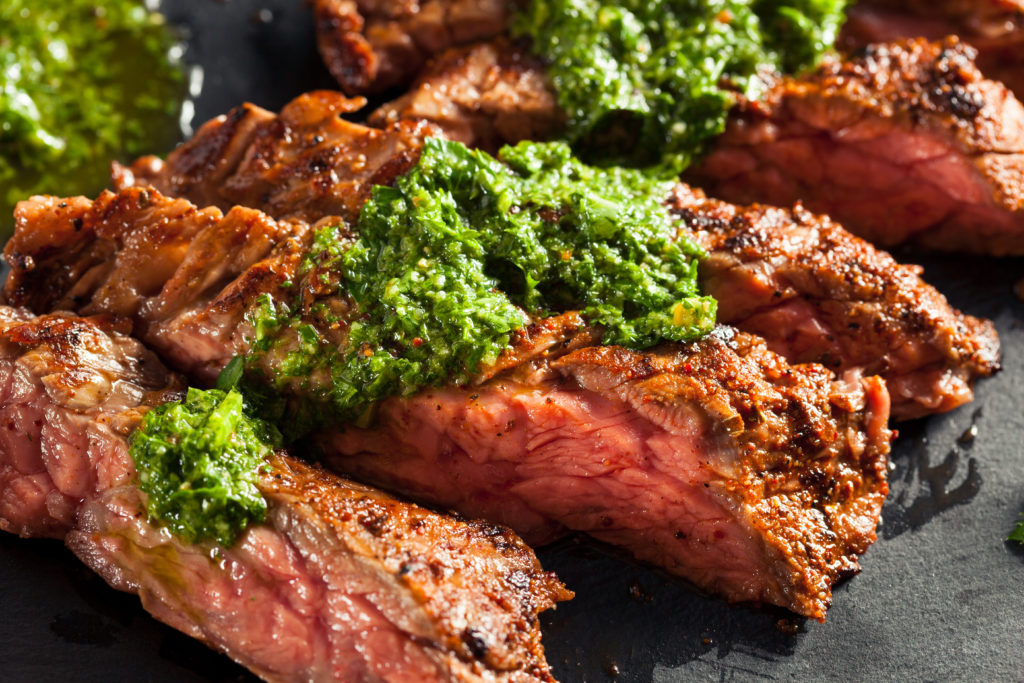 It's finally Friday!  Whoop it up!
We have a fun little weekend planned.  On Saturday we are celebrating one of my dearest friend's 30th birthday and on Sunday we are doing brunch with Walker's best man and his girl friend at our favorite Sunday spot- Bandito's.  We go to Bandito's in Snider Plaza almost every Sunday after church.
I know these past few Friday's I've been posting meatless recipes and lent approved recipes, but today I am switching things up!  I made this dish a few weeks ago and Walker absolutely loved it so I'm sharing this Chimichurri Ribeye recipe with y'all today and I am also making it Sunday evening for dinner.  It's so yum y'all!  Keep reading for recipe details!
Chimichurri Ribeye Recipe
Chimichurri Sauce
Ingredients:
1 cup flat-leaf parsley, finely chopped
5 garlic cloves, chopped
2 Tps dried oregano
1/3 cup EVOO
2 Tbsp white wine vinegar
S & P to taste
1/2 teaspoon red pepper flakes (if you don't like heat, use less)
Directions:
Mix parsley, garlic and oregano in a bowl.
Add EVOO, vinegar, S&P and red pepper flakes.
Serve immediately or refrigerate.
If chilled, return to room temperature before serving.
This sauce is also delish on grilled shrimp and grilled chicken!
Ribeye and Marinade
Ingredients:
2 12oz Ribeye steaks
3 Tbsp EVOO
1 Tbsp honey
1 Tbsp balsamic vinegar
1 Tbsp Dijon mustard
1/2 Tbsp Montreal or similar steak seasoning
3 Tbsp butter
Directions:
Place all ingredients in a ziplock bag, seal tightly and refrigerate for 2-3 hours.
Remove steaks from fridge 30-60 minutes before cooking.
Heat skillet on hight for about 10 minutes.
Add butter.
Once butter is melted add the steaks.
Cook for 1-2 minutes and flip and cook another 1-2 minutes.
Repeat the above step.
Transfer steaks to a plate or cutting board and allow to rest for 5 minutes.
Thinly slice the steaks across the grain and top with Chimichurri sauce.
I serve this dish with cauliflower mash when we're trying to be good (see recipe here) or regular mashed potatoes and sautéed mushrooms. Here is also a great recipe for make ahead mashed potatoes!
Gals- this is a great dish for impressing the man in your life! I promise it will make him swoon!
Kisses and cooking wishes,