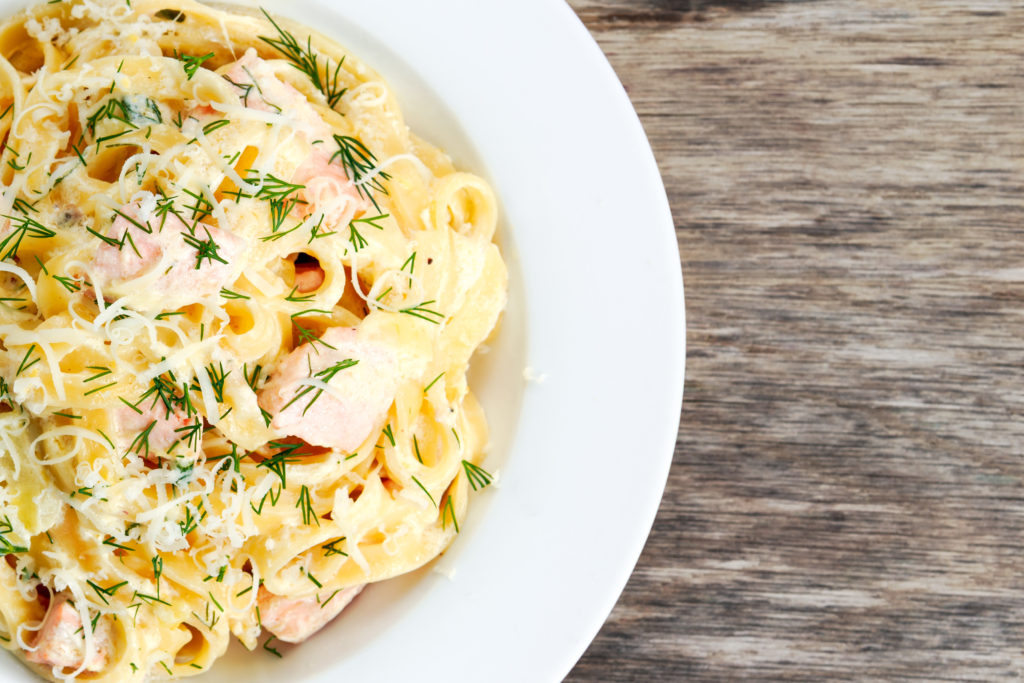 It's finally Friday!  Whoop it up my people!  We're off to Crested Butte, CO this weekend for one of Walker's friends weddings, which means today is a busy busy day!  I have a couple wedding things to wrap up before we jet off and since we're 6 months out from our wedding, project get fit is in full effect!  For the next 3 months, my goal is to workout 30 times a month (I'll bump it up to 35 times a month the final 3 months).  Since I won't be able to work out while we're out of town, I am doing a double today.  Wish me luck!
Today I am sharing this decadent creamy salmon pasta recipe that is literally to die for plus my favorite wine to pair it with!

Creamy Salmon Pasta
Ingredients:
2 lbs fresh salmon
2 tbsp EVOO
salt and freshly cracked black pepper
2 lemons, 1 slided, 1 juiced and tested
cooking spray
1 shallot, chopped
2 c heavy whipping cream
1 garlic clove, minced
S & P to taste
3 Tbsp fresh dill, chopped
fettuccine
1/2 c brandy
Directions:
Cook pasta according to package directions.
Preheat oven to 420 degrees.
Place the salmon skin side down on a baking sheet that has been sprayed with cooking spray
Sprinkle with 2 Tbsp EVOO, S & P, 1 Tbsp chopped dill and top with sliced lemons.
Bake the salmon for 20 minutes or until done and flake into large pieces.
Meanwhile, over medium heat sauté shallots and garlic in remaining EVOO.
Add cream and brandy and bring to the boil stirring continuously.
Reduce the heat and add lemon zest and juice.
Season the sauce to taste.
Continue cooking the sauce over a medium heat until it thickens and coats the back of a spoon.
Combine pasta and sauce and toss in salmon.
Top with remaining dill.
Serve immediately with Winc's Sauvetage Rosé!  Click here for a discount on your first Winc case!

Kisses and kitchen wishes,