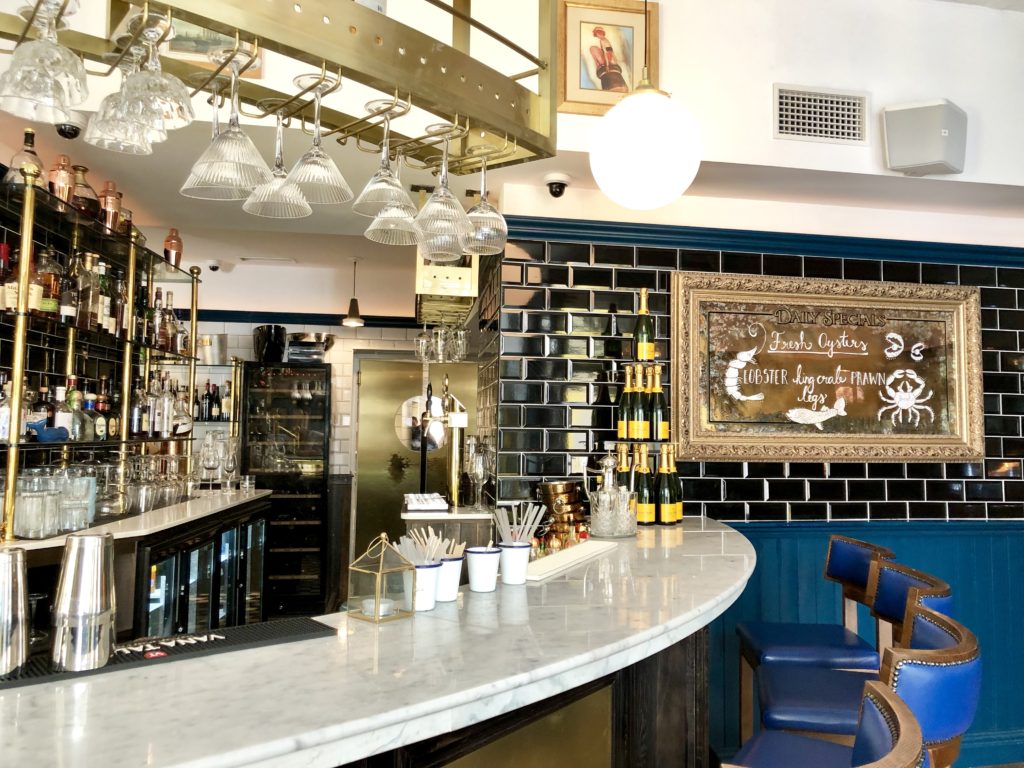 Hello foodie friends and travel enthusiasts! Today I am sharing my Tallinn food guide with y'all and I couldn't be more thrilled because the food in Tallinn, Estonia was out of this world!
Lunch or dinner at The Nautilus. First off the décor was amazing! #designinspo and on top of that the food was killer!! We sipped Aperol Spritz and started with a beautiful salad. Next we had maybe the best mussels we've ever had served with crusty garlic bread. It was amazing!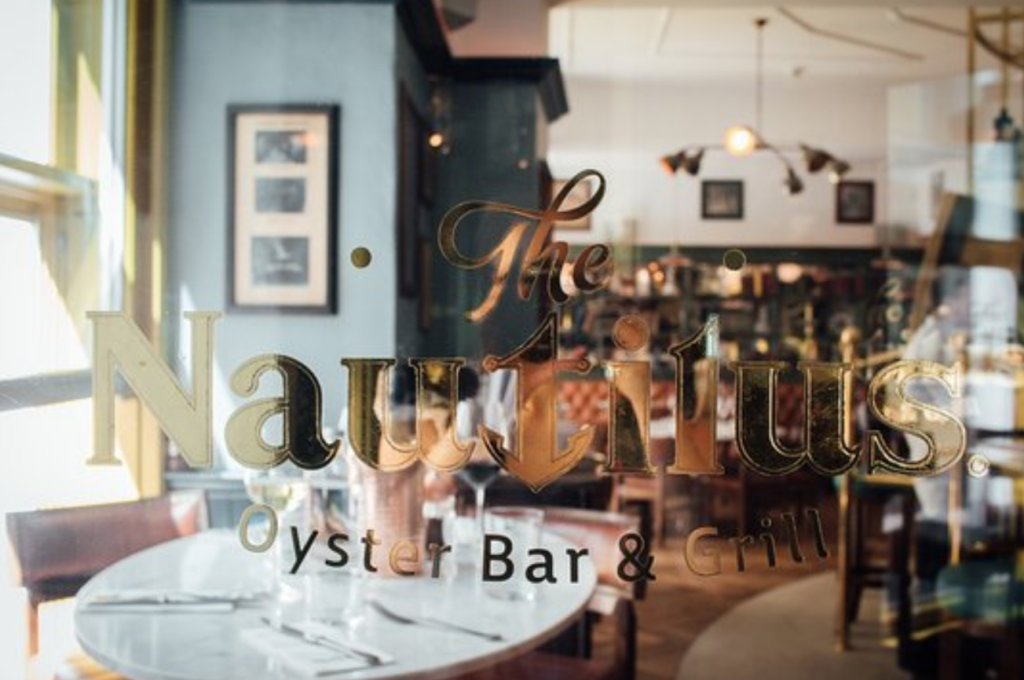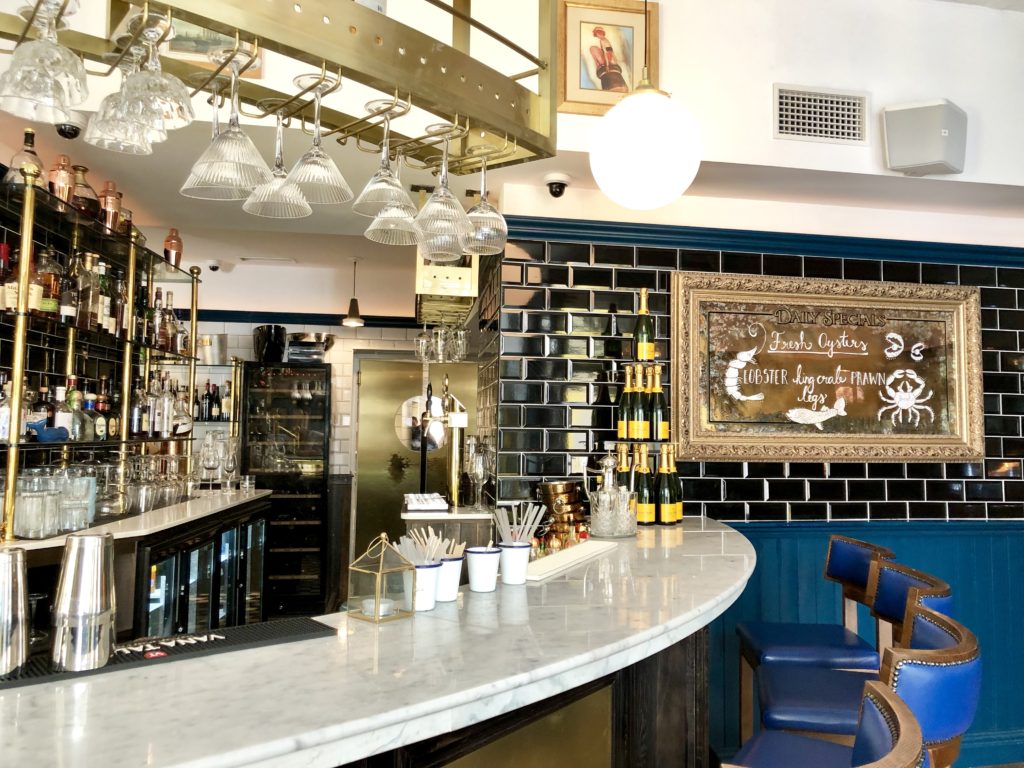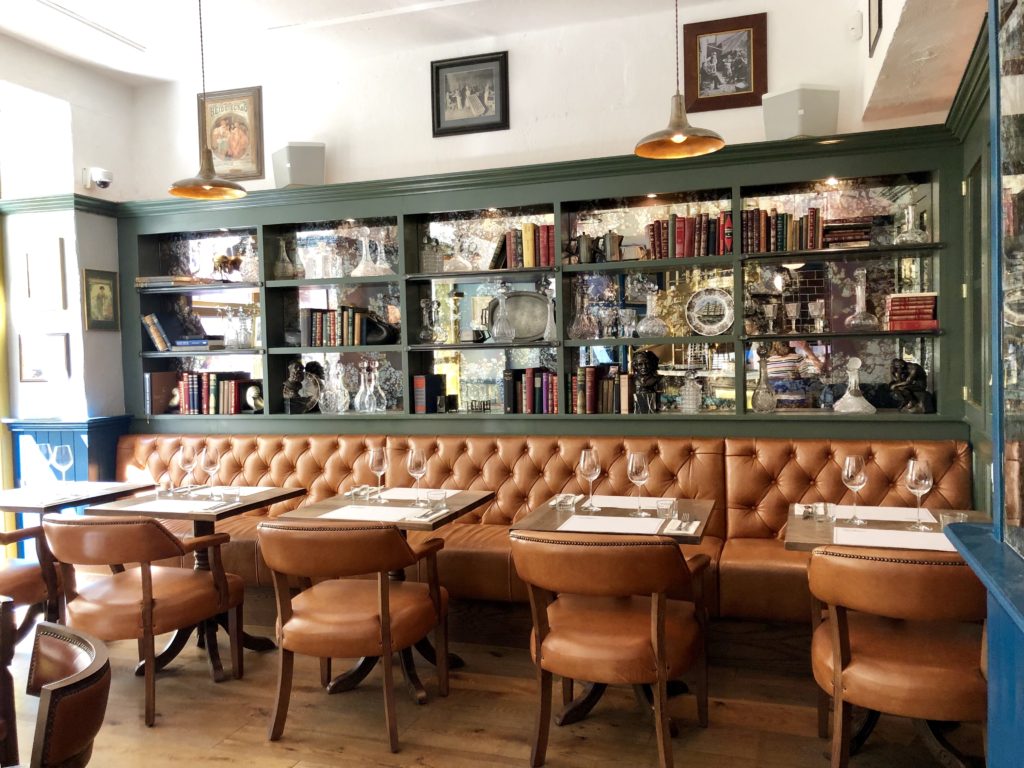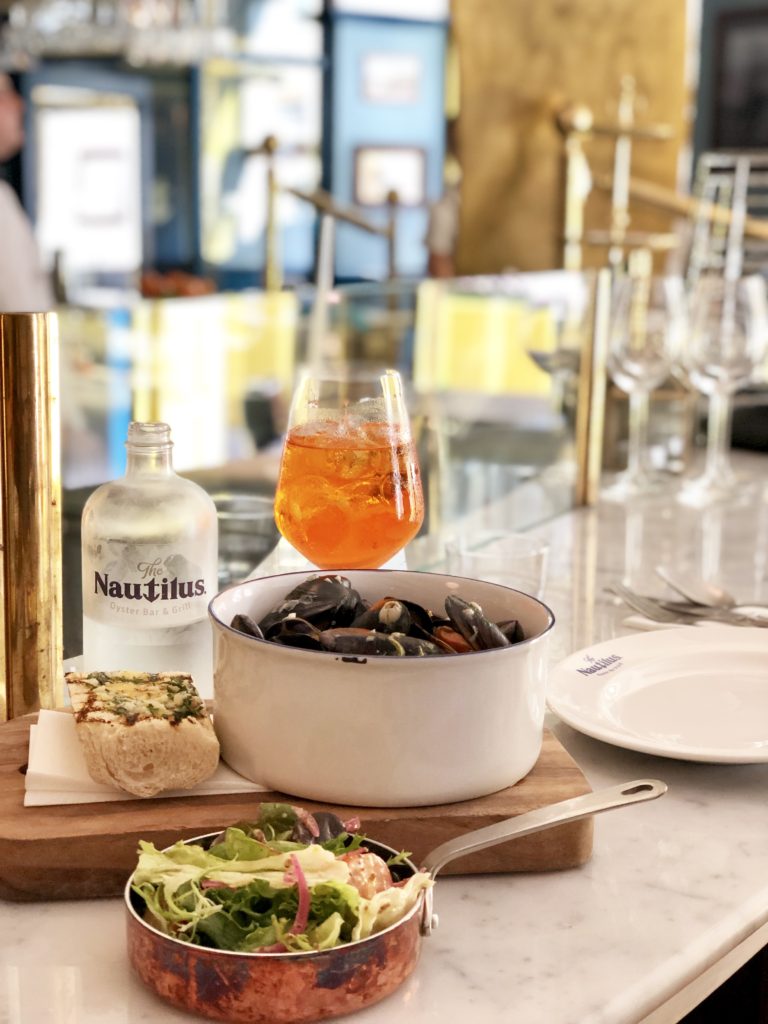 Dinner at Restoran Farm. This was the best meal of our entire trip, and maybe of my entire life. It was beyond amazing! The bright and airy restaurant is elegant but warm, cozy and charming. We started with a bottle of crisp white wine and their house made traditional Estonian black bread. It was very good! For our starters we each had a cup of their creamy sauerkraut soup. It had big pieces of ham in it and the most delicious crispy roasted potatoes too. Judi and I must figure out how to copy cat this recipe so we can enjoy it again and again! For our entrée we split the breaded veal fillet served with grilled carrots and a mushroom ragout and for our side we had a jacket potato filled with a bright and fresh chive pesto. Every course was beyond amazing and the service was top notch too. If you only have time for one meal in Tallinn it must be Restoran Farm!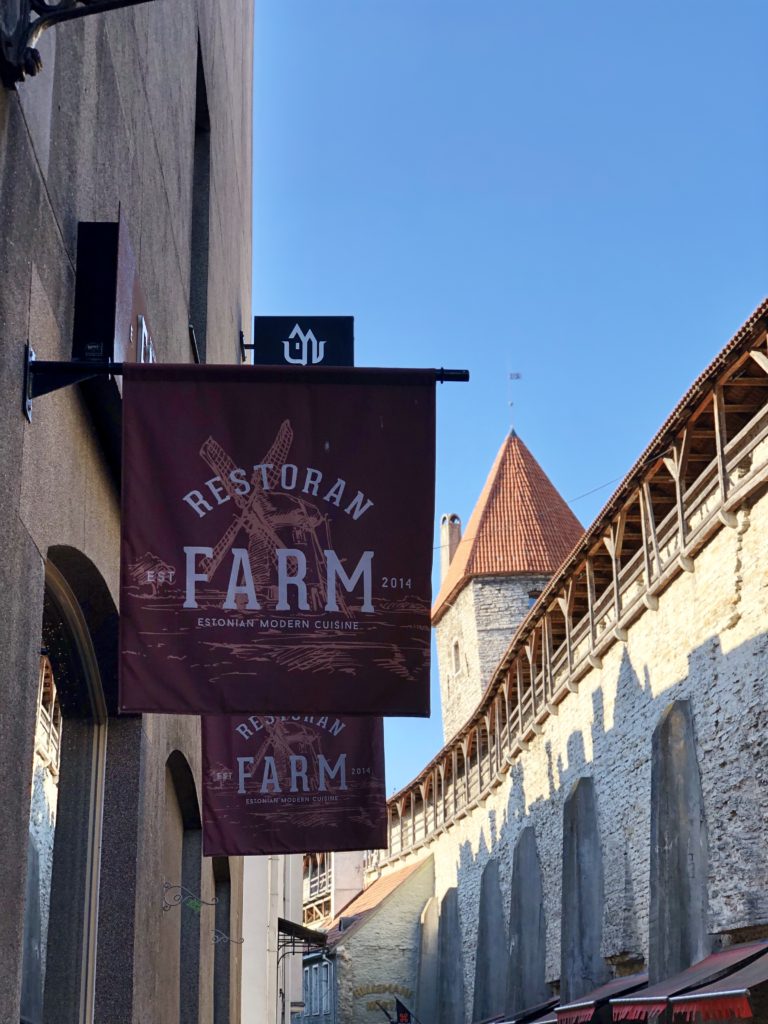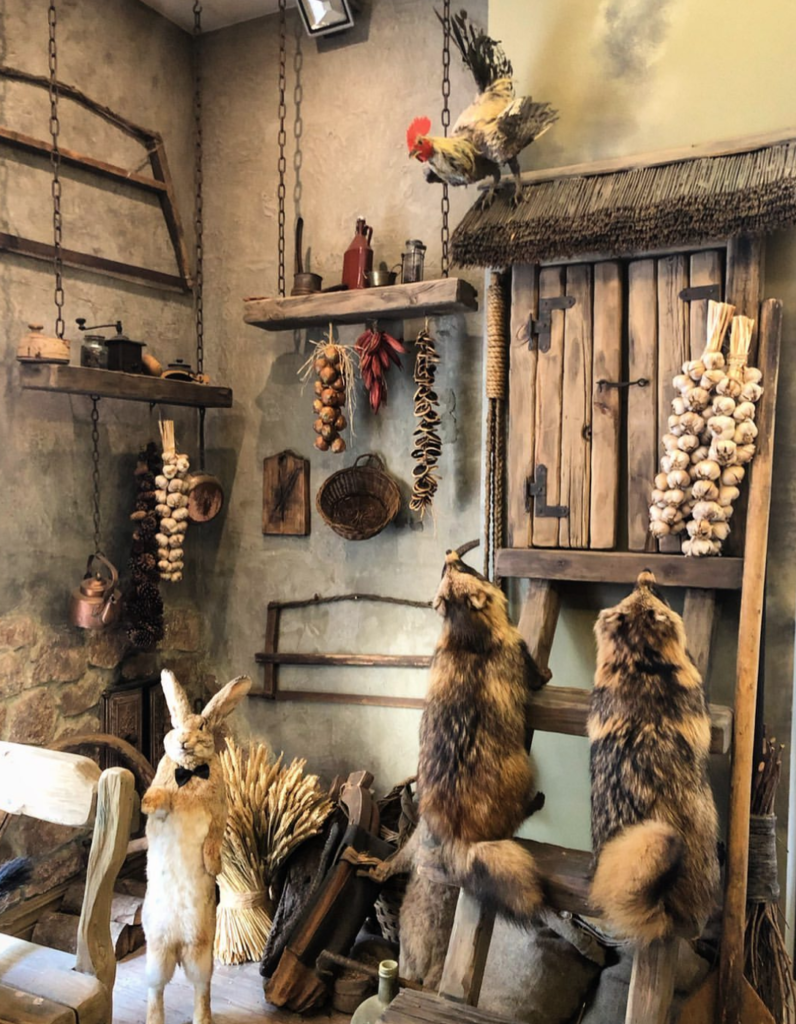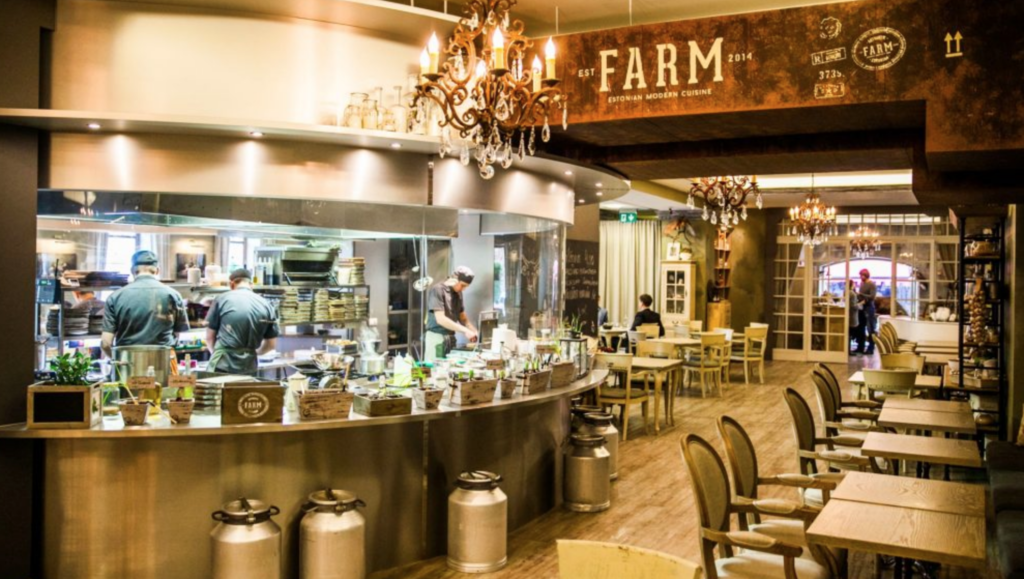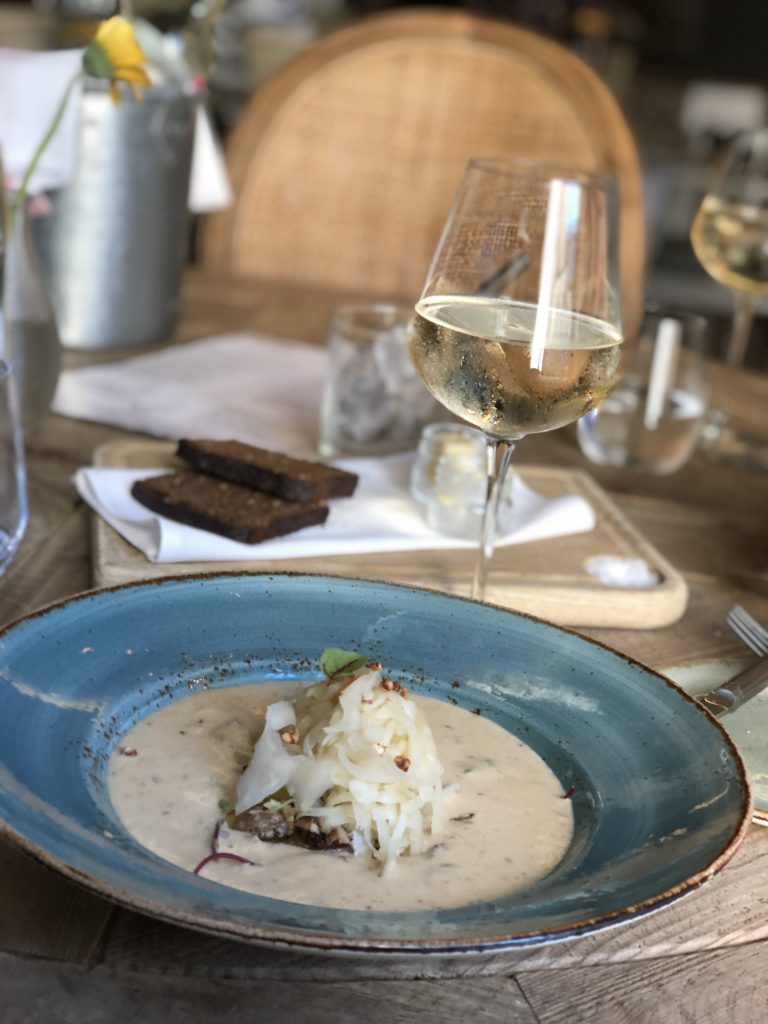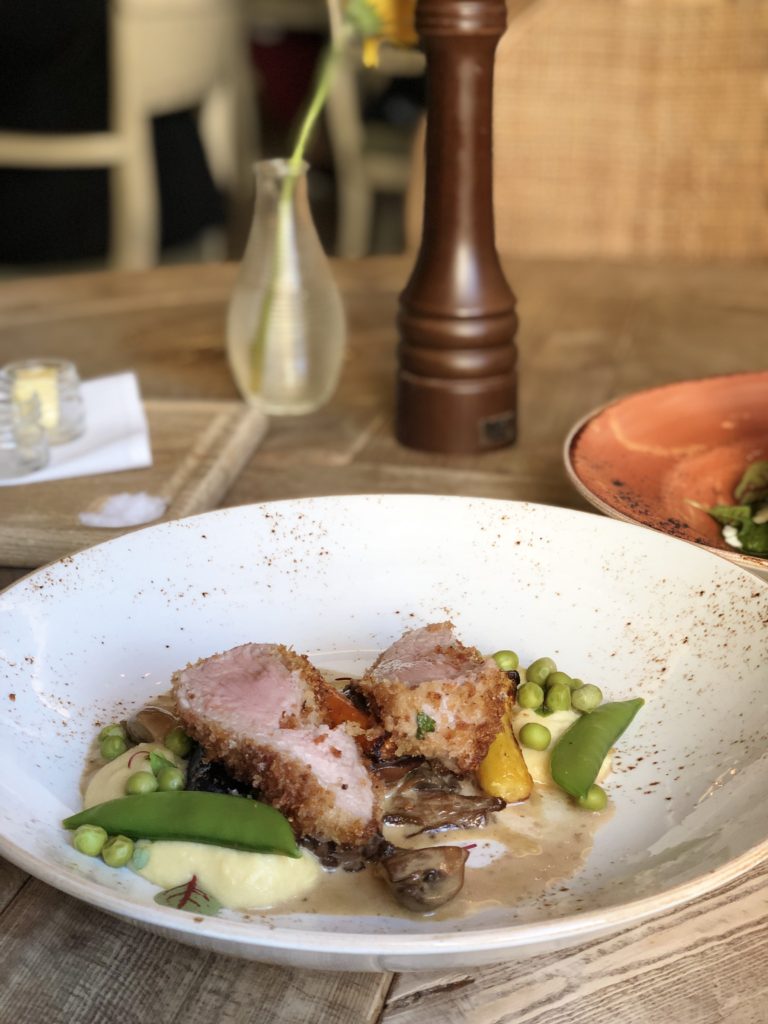 Dinner at Balthasar, a garlic centered restaurant! Balthasar, is located in the very heart of Old Town. Starting from appetizers and ending with desserts, you can pick between various levels of intensity of garlic flavors. We sat on the charming patio and started with white wine and a delicious goat cheese salad served with smoked beetroot, pomegranate, caramelized walnuts and honey and lemon dressing. For our entrée we split the house specialty- a sizzling stone steak served with garlic potatoes, garlic rosette, bacon, madeira sauce and roasted veggies. Yum!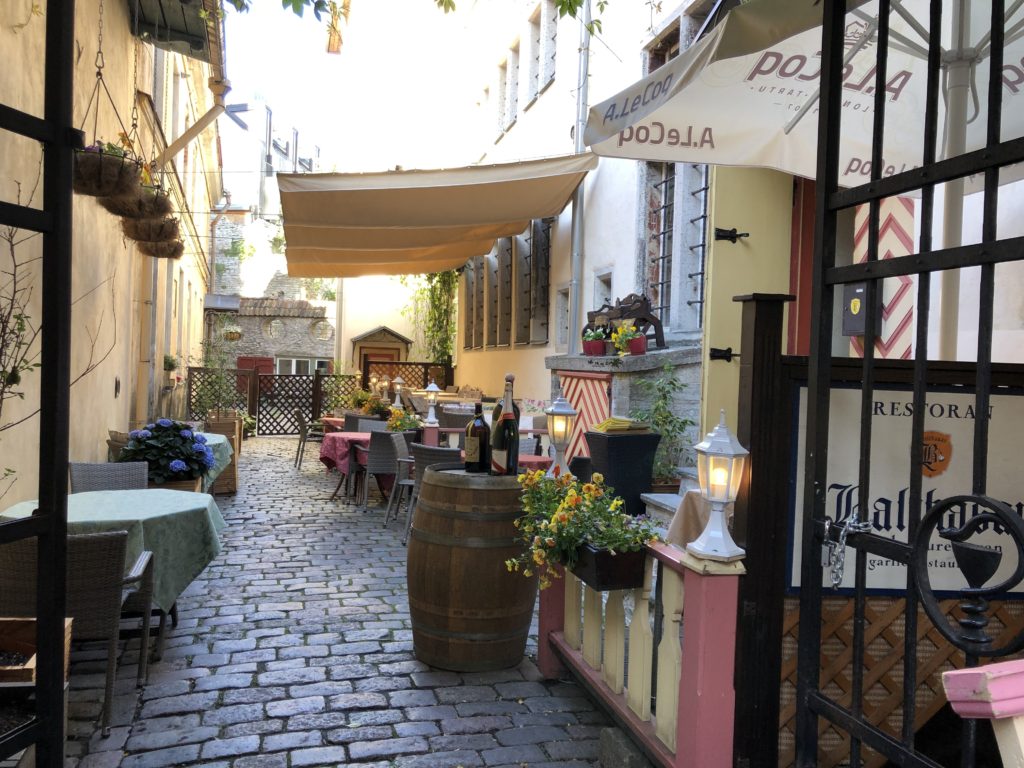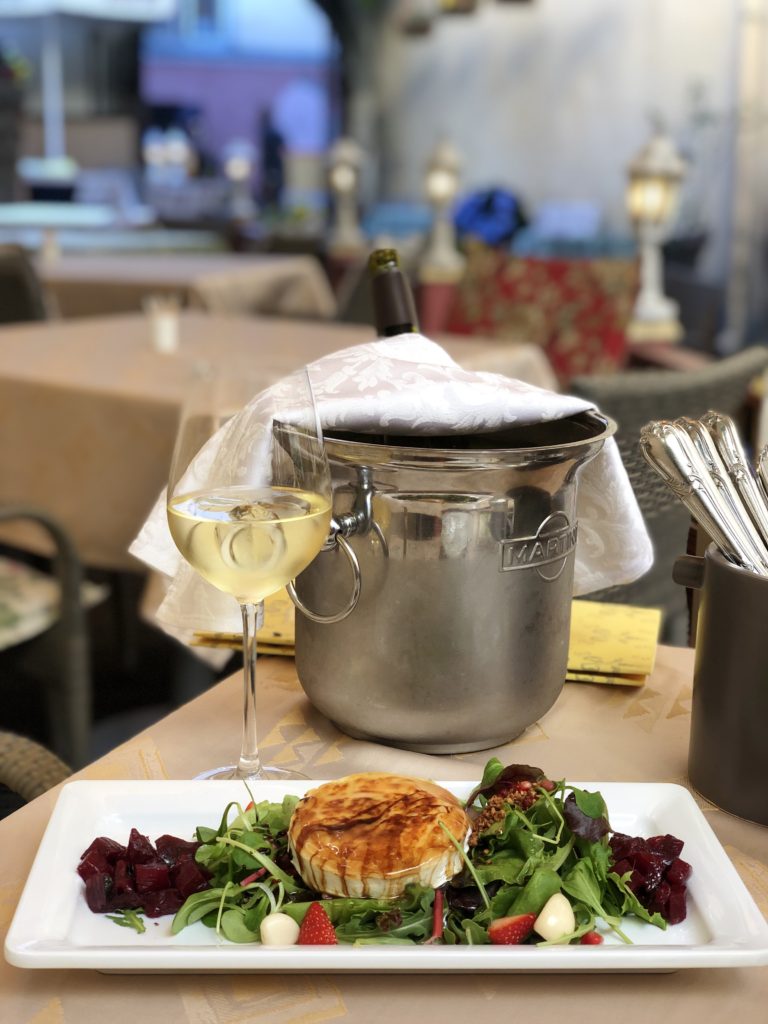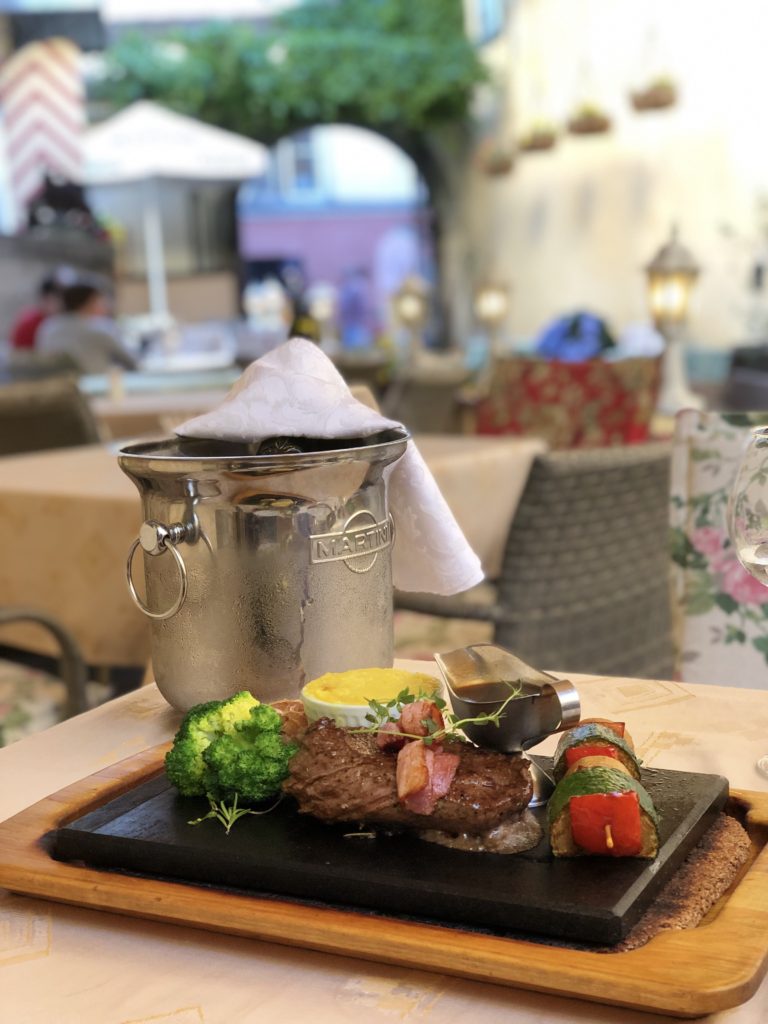 Dessert at Liisu Juures. Located in the heart of Old Town, their apple cake is out of this world! We sipped and ate by the fire place and it was so charming!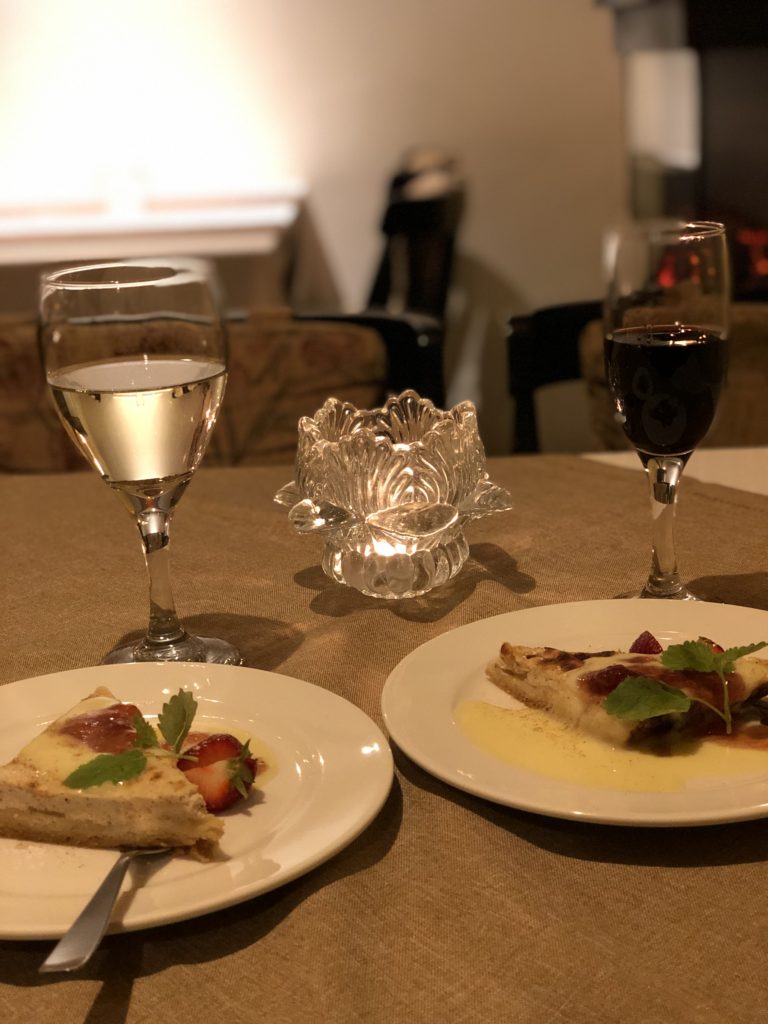 Dinner at Munga Kelder. Hidden in the Medieval archway of St. Catherine's Passage, the "Monk's Cellar" is a mix of stone floors, heavy wood and hanging garlic cloves. Stained glass windows with depictions of monks add an extra touch of color to the décor that is cozy, quaint and beyond charming! We started with skagen, which is a delicious shrimp and avocado salad on top of bread topped with caviar. YUM! For our entrée we split the pan fried zander with garlic potatoes and roasted veggies. It was also delicious! I highly recommend eating here!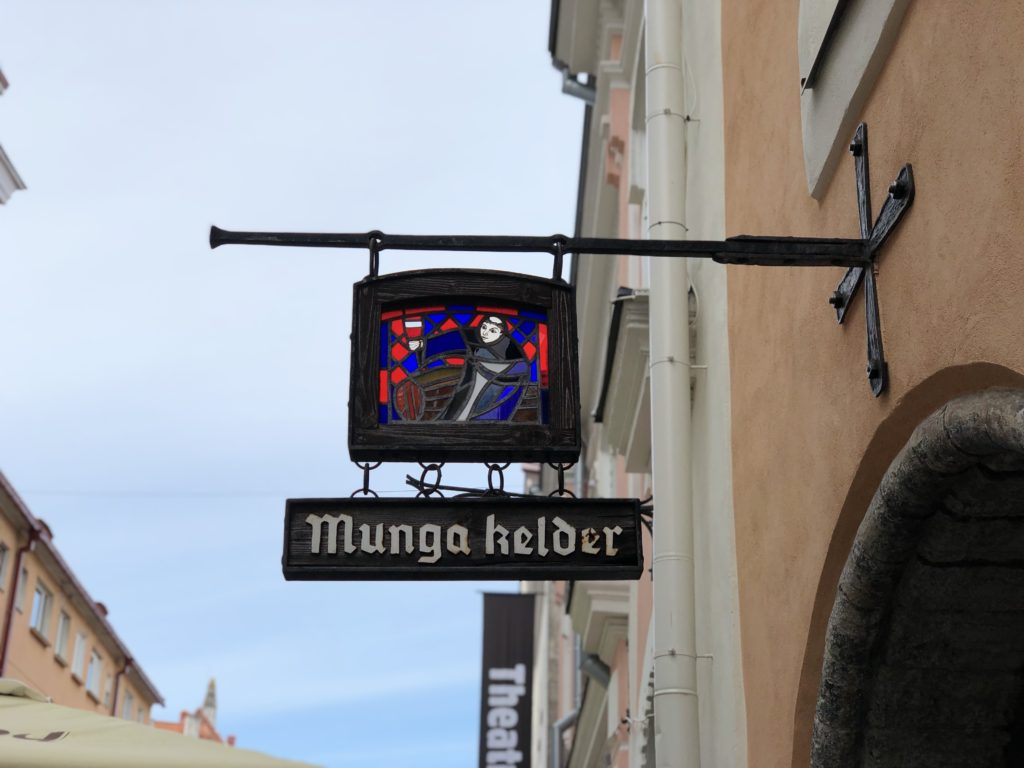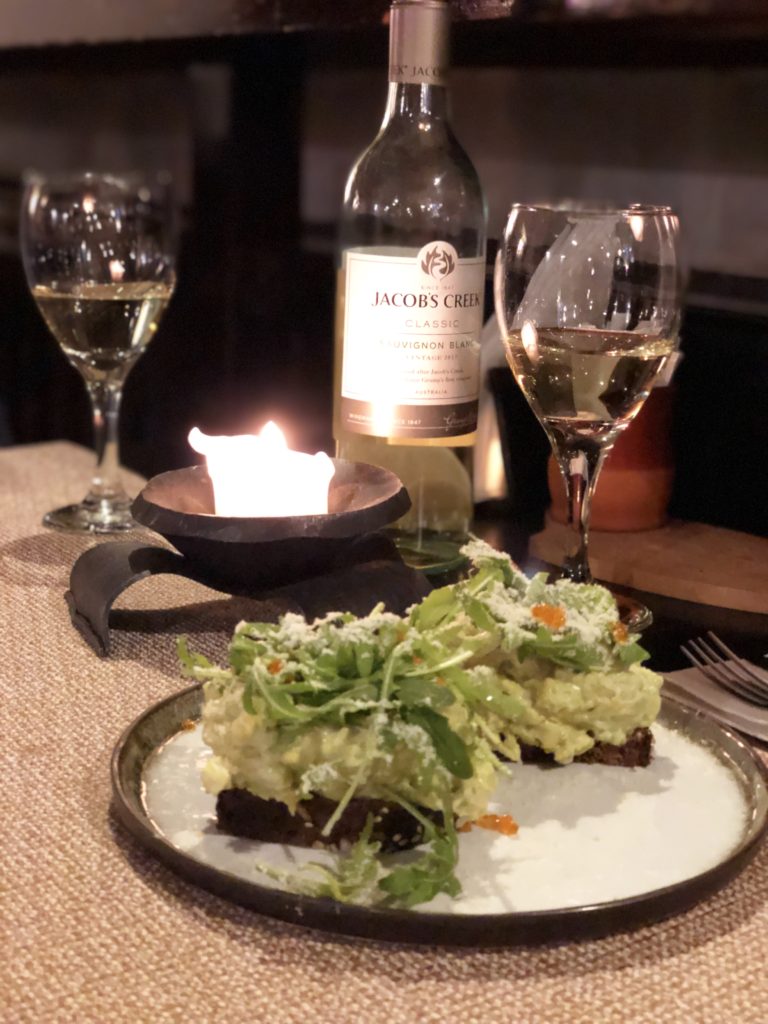 Thank you so much to Hotel Schlossle for our flawless stay in your charming hotel and for making our stay in Tallinn one for the books.
I hope you enjoyed my Tallinn food guide! To read my full Tallinn travel guide click here!
Kisses and foodie wishes,